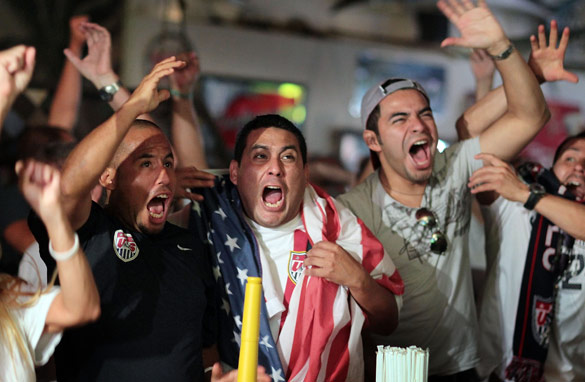 USA fans in Miami celebrate their team's World Cup victory against Algeria and further progress in the tournament. (Getty)
Hartford, Connecticut  - I knew every last American had been touched by the World Cup when my father-in-law told me how much he enjoyed "the first few innings" of the Brazil-Ivory Coast match.
Needless to say, he's just discovering soccer. He still thinks a red card is what communists keep in their wallets. And yet, like so many of his countrymen, he's suddenly been laid low by World Cup fever, whose symptoms include a dull headache and a stiff neck, the result - in my case - of practicing headers in the driveway. ("Practicing them for what?" my wife inquired. But you never know when that call-up will come for the U-50 national team.)
At long last, soccer ignorami in this country are becoming part of the international community. For most of this past week, I (an American citizen) felt schadenfreude (a German word for "joy in the misery of others") at the spectacular implosion of Les Bleus (the French national team, which mutinied against its own coach while crapping out of the tournament).
That's three countries in a single emotion, the kind of geopolitical awakening most of us only get in America when walking into an International House of Pancakes.