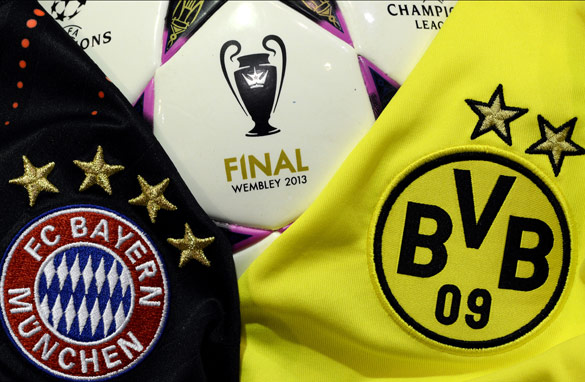 Bayern Munich face Borussia Dortmund in the first ever all-German final of the Champions League on May 25th.
Let's face it, if I could predict the future I would not be working as a sports journalist. Considering all the money I could make foretelling events in the coming days, weeks, months and years to come I would ideally work less than a sloth on strike. Clearly then, this is not a superpower I possess. However, though I can't tell you exactly what will occur in this weekend's UEFA Champions League Final between Bayern Munich and Borussia Dortmund, I can make an informed guess; so that is what I am going to do.
So let's start with the score. I think Bayern will beat their Bundesliga rivals 2-1 so it will be the Bavarians celebrating their fifth European Crown when the dust settles at Wembley on Saturday night.
Bayern will win because they have been the best team in the competition: simple. They have won nine of their 12 games, have scored more goals and conceded less than any other side. They have shown they can dominate games by hogging most of the possession while also being effective as a counter-attacking team against Barcelona. This is a well-oiled machine, which plays to its strengths and seems to score at will against any opposition.
The key to Bayern's success this season has been their wing play. Most of their attacks are conducted down both wings and they rely on deadly combinations between the full backs and wingers to create two-on-one situations around the opposition's box. We all know Franck Ribery and Arjen Robben create goal-scoring chances, but what full backs Phillip Lahm and David Alaba have done is quite extraordinary. They combine for six assists in 12 Champions League games this season.