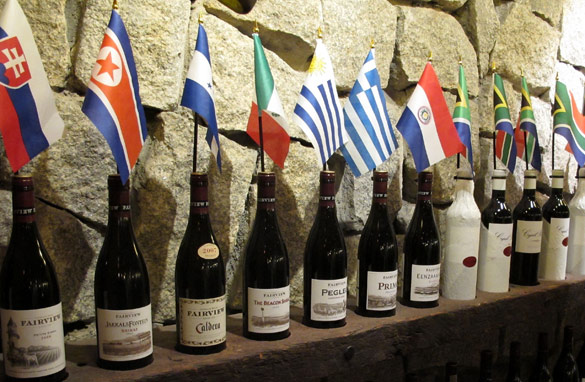 Football fever is running as high in the vineyards of the Western Cape as it is the rest of South Africa. CNN
CNN's David McKenzie will spend the entire month of the World Cup traveling around South Africa in a Winnebago and taking the pulse of the host country, the first nation on the continent to stage sport's most illustrious occasion.
Paarl, South Africa - "I've got the best commute in the world," Fairview Estate's chief wine maker Anthony De Jager says with a smile as he watches his amiable pack of dogs run excitedly through the vineyards.
The sound of dried leaves crunching underfoot follows him as he wanders down the straight rows of vines. It is winter now and harvesting has come to a halt, giving the vines a rest and following a cycle of cultivation that has endured in this valley near the Western Cape town of Paarl for more than 300 years.
Not much has changed in the view of the stately mountains and picturesque vineyards, but football fever is running as high here as in the rest of the country and De Jager has seen a spike in wine sales to countries whose teams are playing in the World Cup.