Maradona, despite his god-like footballing status in his homeland, has placed the national football team, an almost sacred entity in itself among the loyal fans of Argentinean soccer, in something of a mess.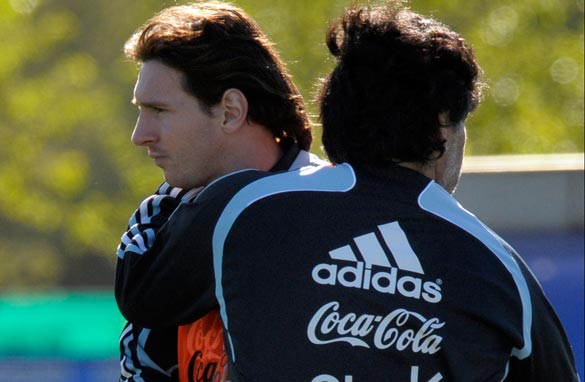 Maradona must swallow his pride and play Messi in his best role.
Argentina have failed to reach the World Cup just once - after a draw against Peru in a qualifer for the 1970 finals in Mexico - and history nearly repeated itself this weekend.
Once again, a draw with Peru would have condemned Argentina to miss the party.
And things looked bleak when, through the driving wind and rain, Hernan Rengifo, a striker who plies his trade in Poland, drew the home side level with Maradona's men.
It looked a dagger blow for Diego's under-performing squad of millionaires and the end of his controversial spell in charge.
But then up cropped one of his selection gambles, Martin Palermo, a striker who played alongside his coach at Boca Juniors in Maradona's retirement season 12 years ago, to tap in a dramatic winner in the fourth minute of injury time.
Maradona magic or just plain lucky given his messy situation?
Actions on the pitch aside, can you imagine what Maradona's collective team of doctors were thinking for those three minutes it appeared Argentina would not win?
His blood pressure must have hit the roof and his memorable celebration, sliding full length on the muddy pitch give some idea of his relief at redemption.
And speaking of pressure – has it ever be more intense for Maradona or Argentina than ahead of the Wednesday evening kickoff in Montevideo against Uruguay?
Uruguay also have designs on clinching the fourth and final automatic World Cup spot from South America and are tough at home.
Ecuador, who are favorites to clinch fourth spot, play Chile who are already qualified in third place and may not be too bothered by the outcome.
On top of this, pundits are claiming that the best Argentina can hope for is to clinch fifth in the group and go into a playoff against a team from the CONCACAF region which they would be heavily favored to win.
But Argentina need to improve to even secure the draw they likely require as a minimum and they need their superstar Lionel Messi to step up to the plate.
The Spanish sports newspaper AS is reporting there is a rift between Maradona and his talisman, who is being deployed in a different position than he plays for Barcelona and is apparently disillusioned by the tactics employed by the coach.
Maradona must sort out this situation fast or he will be looking for a new job on Thursday morning, which would be a shame because whatever one's opinion of him, he is box office and the World Cup finals will be the poorer for his and Argentina's absence.
While a World Cup without arguably the best player in the world in Messi is surely unthinkable.
Some heads need to be banged together in the Argentina camp starting with the football icon and his legendary boss.