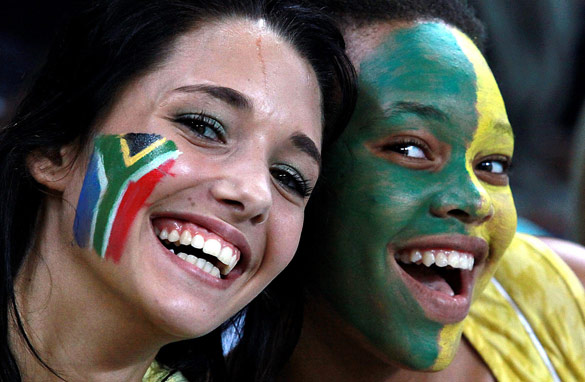 Two fans getting in the World Cup mood. (Getty Images)
The World Cup - the biggest carnival in global soccer - is about to kick off in Johannesburg; an event that will see the greatest players and the most powerful nations vie across the fields of Africa for the most coveted prize in the game.
The tournament, which was first played among 13 nations in 1930, has grown into a global behemoth that attracted a cumulative global television audience of 26 billion in 2006 and is expected to see 300,000 visitors travel to South Africa to witness the action in 2010 (figures from FIFA).
Few events have the ability to unite people the world over, but the collective interest generated by the drama of eleven men kicking a ball in pursuit of a golden trophy gets somewhere close.
Whether as a passionate fan or merely as an interested spectator, each edition of the World Cup captures the era, creates new legends and makes history in both a communal and personal way.
And it is these personal stories, from every corner of the globe, that we want to be part of our coverage - so could you contribute by becoming a CNN Super Fan?