Just over a week after Kim Clijsters' magnificent victory at the U.S. Open, Justine Henin announced she was returning to professional tennis.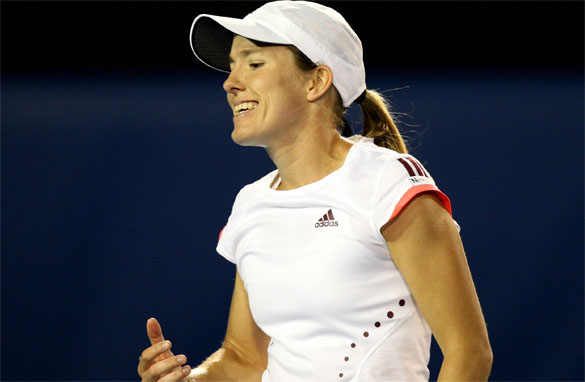 Justine Henin gestures during her womens singles match against Russian opponent Maria Sharapova at the Australian Open 2008 tennis tournament in Melbourne, her last major before announcing retirement.
It's another wonderful, and timely boost for the women's game, which in my opinion has been vastly inferior to the men's this year.
You'll remember that Henin shocked the tennis world last May by retiring while ranked number one in the world, and on the eve of last year's French Open, which she had won for the past three years.
As recently as this May, Justine said playing had left her with so many physical ailments a return to the tour was unthinkable.
But, rumors of a comeback had been gathering pace in the last few months. A Belgian television network reported that the 27-year-old had ordered 14 tennis rackets and was practicing intensely, supposedly for an exhibition she's due to play in December.
It turns out she's going to play in two exhibitions. One at home, one in Dubai before making her competitive return at the Australian Open.
Kim Clijsters won her third tournament back – makes you think doesn't it?
Though she won't be a favorite in Melbourne, Henin could easily do a 'Clijsters.' She's one of the most talented players the game has ever seen and before hanging up her rackets last May she was arguably the most mentally strong of all her rivals. That's why she won seven Grand Slams.
None of those seven were at Wimbledon, and that, she cites, is one of the main reasons for returning. She's had a few chances at the All England Club in the past and her game seems to be the perfect fit for the grass. Can she win it? Of course she can. Maybe in 2010 the Williams' will have a little competition!
Terry Baddoo – but will she be any good?
So Henin has returned to the game, the big question remains can Justine, winner of 41 singles titles, reclaim her position at the top.
Well, obviously, nothing is guaranteed. And, having yet to see her on court, even in exhibition mode, it's impossible to say for sure at what level she'll be able to compete. However, it may be possible to make an informed judgment based on the way she looked when she announced her comeback on a Belgian TV.
Those who followed the first part of her career must surely have noticed that this was a woman with some baggage. A troubled life off the court, in which she lost her mother at the age of 12; had a sister killed in a car accident; became estranged from her family; endured a divorce; and suffered frequently recurring health problems had conspired to give Henin a haunted look by the time she quit the tour so dramatically on the eve of last year's French Open.
Plus, in addition to health and personal issues, there was also the fact that Justine is obviously a thinker. A documentary on the star revealed someone with varied interests, a social conscience, and, strangely, for one who often looked so cold and detached on the court, a warm side to her personality.
So while the timing of her retirement was surprising, the fact that she chose retire was, on reflection, not so shocking. Because, though she cited a loss of passion as the reason, I suspect it may have been just the opposite, as it was her passion for exploring and growing in other areas of her life besides tennis that may well have propelled her to quit.
Indeed, she tacitly endorsed that deduction in her poetic comeback speech, when she talked about the fire having been rekindled, and the fact that she is a better and more fulfilled person now than she was 15 months ago.
And that was reflected in her demeanor during her comeback interview. Gone was the haunted, cautious, steel-coated Justine, to be replaced by a relaxed, smiling, open woman who was happy to announce she's back in business. She even looked better. The pasty faced, lank-haired, plain Jane, replaced by a confident, glamor-puss clearly making the best of herself and feeling great about it.
Of course, her appearance may in part have been down to good hair and make-up girls, but I sensed it was deeper than that.
Having discovered herself, Justine is now ready for her close-up in a way that she never was before. And, together with Clijsters' comeback, that's a good thing for women's tennis at a time when the Williams sisters needed to be challenged at the big tournaments for the sake of the sport.
So, "Allez Justine", and welcome back. I hope your return works out the way you want it to. But, more importantly, I also hope you maintain your inner peace.