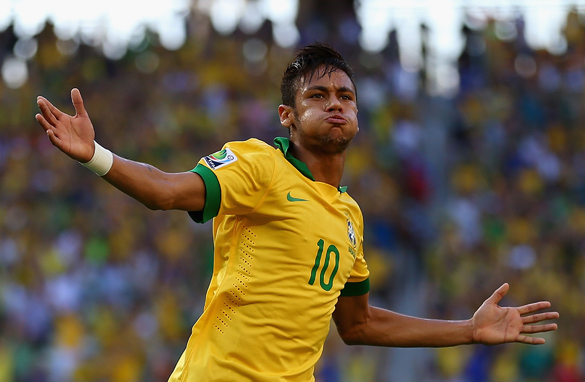 Neymar has scored three superb goals during the Confederations Cup. (Getty Images).
While Brazil's World Cup winning team in 1970 entranced the world it ensured that that golden generation became the benchmark by which every subsequent Brazilian coach and player would be measured.
No pressure then for the current wearers of the famed yellow shirt as they prepare to meet current World Cup champions Spain in the Confederations Cup final on Sunday in Rio de Janiero's Maracana Stadium.
Brazil's captain Carlos Alberto scored the final goal in the 4-1 destruction of Italy in the 1970 World Cup final - arguably the most perfect epitaph to a team that had captivated millions of people watching across the globe who were not lucky enough to be in the Azteca Stadium on that June 21 day.
Encompassing wonderful individual skill within the framework of a team that seemed to have an almost telepathic understanding, the move that led to the goal started with Tostao deep in his own half.
By the time Alberto had crashed the ball into the net the majority of the team's outfield players had been involved in the build up to its devastating denouement.
There was midfielder Clodoaldo bewitching a quartet of Italian players, with Rivelino and Jairzinho also linking up.
Jairzinho then passed to Pele, who was standing just outside the penalty box's "D". Time seemed to stop as Pele assessed his options - before sensing Alberto's run to his right - he nonchalantly flicked the ball into the path of his captain. The rest is history.
If Pele was the reference point for that 1970 team, these days it is the 21-year-old Neymar, who after the Confederations Cup will head off to Barcelona having signed for the Catalan club in a $75 million transfer earlier this month.
Neymar has scored three superb goals during the Confederations Cup, but Luiz Felipe Scolari's side arguably will be the underdogs when Brazil meet Spain in Sunday's final.
These days, with 24/7 coverage of football, perhaps we have become so accustomed to seeing so many Brazilians playing in Europe that the mystique of watching the Brazil national team is no longer quite what it once was.
Cast your mind back to 1970 and the f word used to describe Brazil's golden generation of player was: flair. More than 30 years later and it's functionality.
Or as a work colleague put it: "Look at those old players and they've got rad taches and long hair. It was Seventies flair on and off the field. Now it's streamlined. A calculated machine - just like global football."
"The globalization of football has ensured that the pragmatic goal is always to win," Isaias Tinoco, who has spent much of his working life developing young players at Brazilian clubs and Vasco da Gama and Flamengo, told CNN.
"If you can have creativity and emotion that is OK, but the main goal is the three points and titles. Football is a big deal in Brazil and Scolari's team will try to have two characteristics - results and joy," added Tinoco, as he emphasised the word results.
In Brazil, Tinoco is viewed as a pioneer in the organization of youth football, first with Vasco and then Flamengo.
He helped design the training facilities that provided an all-encompassing approach to the development of young players, where they would be housed, fed, educated and given medical care, all in the same place or within walking distance of school.
Vasco's most successful period was under Tinoco's term as technical director and Eurico Miranda as president.
Winners of Euro 2008 and 2012 as well as the World Cup 2010, Spain's recent international success owes much to the way Spanish clubs - notably Barcelona - have developed their young players in a similarly "vertically integrated" way, though the emphasis is on ball possession, passing and movement.
"Spain created a method of game selection that runs from its youth teams to the senior squad," said Tinoco.
"In the Under-20 World Cup, which is being played in Turkey at the moment, you can see that the Spanish team plays in a similar style way to the way Vicente Del Bosque's side does in the Confederations Cup in Brazil.
"In Brazil we had this vertical integration in clubs –- for Flamengo in the 1980s and the Sao Paulo era under Tele Santana.
"Right now we have this process being implemented at Atletico Paranaense in Curitiba, while Gremio and Internacional also do this planning in Rio Grande do Sul.
"The Spanish method is well implemented by their international youth teams; the question is whether the clubs are following suit or is it only Barcelona?"
Brazil's geographical size and the diversity of cultures has ensured that the approach to youth development has been more ad-hoc with no systematic football federation led philosophy as there has been in Spain and Germany.
Tinoco also makes the point that Brazil clubs spend more money paying tax debts than they do investing in youth development.
And economics mean that Brazilian clubs' approach to nurturing young players is now influenced by the need to keep one eye on the demands of European clubs who want players that are tactically disciplined and don't make mistakes.
Equally, Brazilian coaches have been influenced by their European counterparts who arguably have a more conservative approach to the game. Scolari, of course, was Portugal's coach between 2003 and 2008.
If Brazil's "craque" - a type of a gifted, creative and skillful player – factory is no longer in existence, the South American nation remains the number one provider of expatriates within Europe, with 515 Brazilians spread across the 31 divisions, according to research earlier this year from the CIES Football Observatory in Switzerland.
Whereas in the past Brazilian players would move to Europe much later in their careers that is no longer the case.
"Athletes are being taken to other countries without completing the established cycle of development of at least seven years," said Tinoco. "The exodus is very intense."
It is an exodus that is understandable given the Transfers paid to Brazilian clubs as well as the third-party owners of players, but at what price for the future of the Brazilian national team?