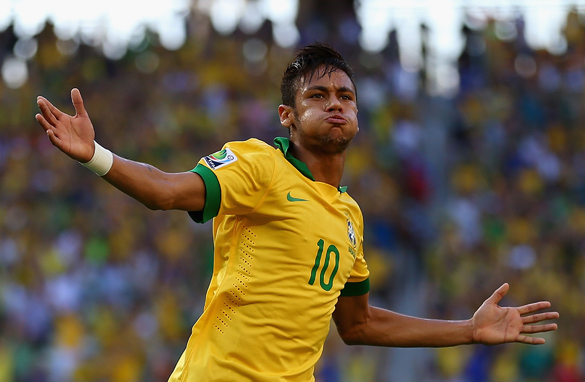 Neymar has scored three superb goals during the Confederations Cup. (Getty Images).
While Brazil's World Cup winning team in 1970 entranced the world it ensured that that golden generation became the benchmark by which every subsequent Brazilian coach and player would be measured.
No pressure then for the current wearers of the famed yellow shirt as they prepare to meet current World Cup champions Spain in the Confederations Cup final on Sunday in Rio de Janiero's Maracana Stadium.
Brazil's captain Carlos Alberto scored the final goal in the 4-1 destruction of Italy in the 1970 World Cup final - arguably the most perfect epitaph to a team that had captivated millions of people watching across the globe who were not lucky enough to be in the Azteca Stadium on that June 21 day.
Encompassing wonderful individual skill within the framework of a team that seemed to have an almost telepathic understanding, the move that led to the goal started with Tostao deep in his own half.
By the time Alberto had crashed the ball into the net the majority of the team's outfield players had been involved in the build up to its devastating denouement.
There was midfielder Clodoaldo bewitching a quartet of Italian players, with Rivelino and Jairzinho also linking up.
Jairzinho then passed to Pele, who was standing just outside the penalty box's "D". Time seemed to stop as Pele assessed his options - before sensing Alberto's run to his right - he nonchalantly flicked the ball into the path of his captain. The rest is history. FULL POST