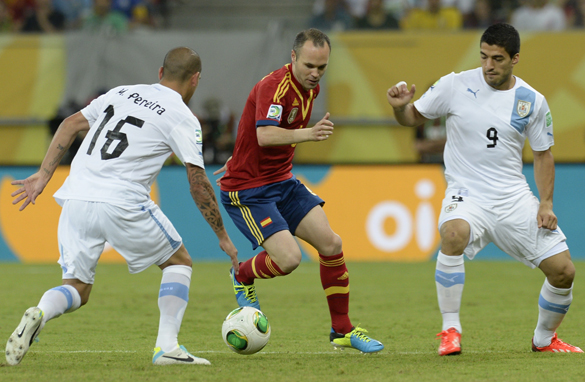 Andres Iniesta was outstanding for Spain in the 2-1 Confederations Cup win over Uruguay. (Getty Images).
The final of the 2014 World Cup in Brazil's Maracana stadium in Rio de Janeiro is just over a year away, but already it's difficult to look any further than Spain as tournament winners.
That's a statement likely to provoke guffaws from hosts Brazil, who hope home advantage will propel the South American side to a record-extending sixth title.
Argentina, who have the world's best player Lionel Messi in their team, might also have something to say about that prediction.
History also suggests that Spain will have an uphill struggle trying to defend their title - a feat last achieved by Brazil in 1962.
All four World Cups held in South America so far were won by teams from that continent, which also provided two of the four losing finalists.
If you include the 1970 and 1986 tournaments, played under similar conditions in Mexico and won by Brazil and Argentina, then Latin American dominance stretches to six wins from six.
On Saturday, Luiz Felipe Scolari's Brazil romped to a 3-0 win over Japan in their Confederations Cup opener, but that victory was nothing compared to the pummeling Spain inflicted on Uruguay on Sunday.
The 2-1 scoreline might suggest a close contest, but if this had been a boxing bout the referee would have stopped the game after Spain's second goal such was the gulf in class between the two teams.
In the first half Spain enjoyed 78% of possession, with Pedro and Roberto Soldado scoring goals while Cesc Fabregas also hit the post, as the world champions created numerous other chances.
This against a side that are the Copa America champions, boasting the combined striking talents of Luis Suarez and Edison Cavani.
At one point in the first half, television cameras honed in on Suarez, capturing the Liverpool striker breathing heavily, despite having barely got near the ball as he vainly chased the Spanish ball-passing carousel.
"It's very difficult to generate any kind of danger when you don't touch the ball," said Suarez, who scored a late consolation with a curling free-kick.
Read: 'The man who made a nation cry'
"Spain is the best side in the world. They are a candidate to win the World Cup," added the Uruguayan.
The way Spain pass a team into submission is akin to a metronome monotonously beating out the rhythm for an aspiring piano player. Except for the tick tock of the metronome, substitute Spain's Tiki-taka passing game.
It is a style of football that oscillates between slow passing in the search for a team's weakness, to rapid quick-fire exchanges when that chink is discovered.
The understanding the Spanish players have of time and space seems at times almost extraterrestrial. It's not, instead predicated on repeated practice such as El Rondo - a passing game played in a constricted space.
At Euro 2012, Spain were accused of being "boring" as Vicente Del Bosque's side landed a third successive major title.
There was nothing boring about Sunday's win –- unless as a spectator you were turned off by the lack of resistance Uruguay managed to offer. It was that one-sided.
And this from a Spanish side that was missing key midfielder Xabi Alonso through injury, with Javi Martinez and Juan Mata starting on the bench, while the likes of goalkeeper David de Gea and attacking midfielder Isco were held back for Under-21 duty in Israel.
That duo faced Italy in UEFA's Under-21 Championship final on Tuesday, a 4-2 victory which provided further evidence of Spain's current strength in depth as the team - led by a hat-trick from captain Thiago Alcantara of Barcelona - defended the title won in 2011.
If Andres Iniesta was man-of-the-match in Recife, equally impressive were Fabregas and left-back Jordi Alba. That trio remorselessly exploited Uruguay's right flank.
Yet Spain's tendency to not finish off opponents will give the likes of Argentina and Brazil, as well as European sides such as Germany and Italy, a glimmer of hope that the 2014 World Cup will not end with La Roja successfully defending the title they won in South Africa.
"We should have scored more and maybe we were tired and also as a result of winning 2-0, that affects the players - they start to slow down and that is why we suffered at the end," admitted Del Bosque.
Soldado might have scored against Uruguay, but there is a sense that the hunt for a striker to finish off Spain's intricate passing moves goes on.
David Villa has struggled to return to form after suffering a broken leg, while Fernando Torres' own search for the form that terrorized defenders when he was at Liverpool continues in vain.
However, Spain's opponents will first need to get the ball off Del Bosque's bewitching team if that weakness is to be exploited.