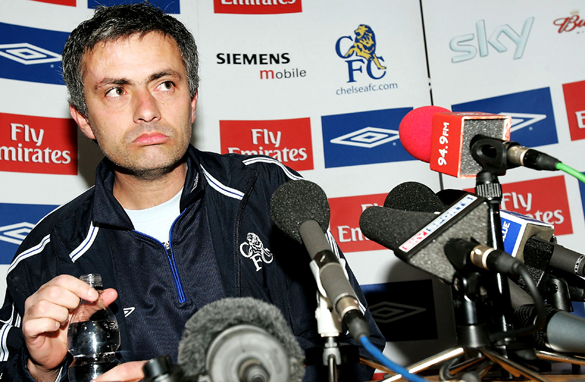 Jose Mourinho was sacked as manager of Chelsea in 2007, but has now returned.
"Getting back was only the beginning." Not only the strapline for Hollywood sequel Back to the Future II but also a fitting description of Chelsea's decision to reappoint Jose Mourinho on a four-year contract.
The return of the self-dubbed "Special One" after a six-year absence has prompted a euphoric response from the Premier League club's fans, who are delighted owner Roman Abramovich has decided to go "Back to the Future."
Between 2004 and 2007, Mourinho's Chelsea, for a time, dominated English football. The Portuguese coach guided the west London team to a first league title in 50 years as well as four other major trophies.
But his return is being greeted with caution by some who warn it is never wise to return to the scene of former glories.
Liverpool were forced to sack club legend Kenny Dalglish in 2012 after a largely disastrous Anfield comeback, while Zdenek Zeman failed to inspire on his recent return to Roma.
But just like Marty McFly in the 1985 hit film, Mourinho can count on a grey-haired old timer to prove returning to the past can be the key to saving the present.
Bayern Munich are currently the toast of world football, basking in the reflective glory of an unprecedented haul of silverware. The 2013 German title was won by a record-breaking margin as Bayern finished 25 points clear of Borussia Dortmund.
Bayern beat Stuttgart last weekend to lift the German Cup and, sandwiched in between those twin triumphs, the Bavarians defeated Dortmund in the first all-German Champions League final to become kings of Europe for a fifth time.
The mastermind behind this unprecedented treble was 68-year-old Jupp Heynckes, Bayern's very own "Doc Brown" who returned to the club he previously coached two decades earlier to achieve historic success.
Heynckes, who won two Bundesliga titles during his first spell as Bayern coach between 1987 and 1991, returned in 2011. His arrival followed the departure of Louis van Gaal, who had presided over an unacceptable third-place finish in the league.
Why 'Special One' needs to be loved
Heynckes' first season back at the helm ended in heartbreak. Bayern finished second in the Bundesliga, behind Dortmund, and suffered a crushing Champions League final defeat to Roberto Di Matteo's Chelsea team in their own Allianz Arena Stadium.
While the club's players and fans plunged the depth of despair, Heynckes steeled himself for a monumental comeback.
The power of his all-conquering 2013 team was at its most apparent during a 7-0 aggregate thrashing of Barcelona in the Champions League semifinal.
Barca, the team roundly accepted as the best in the world up to that point, had seen their mantel stolen by Heynckes' red and white juggernaut. The veteran's return instilled a confidence and a swagger into a team which was in danger of going down in history as chokers.
Heynckes' achievements were such that, prior to announcing he would take a break from the sport, there was talk he might return to another old stomping ground.
He was hotly-tipped to replace Mourinho at Real Madrid, a club where he won the Champions League in 1998.
Chelsea's decision to get back with an ex comes after six years which have seen seven managers try to work under the shadow cast by Mourinho's departure.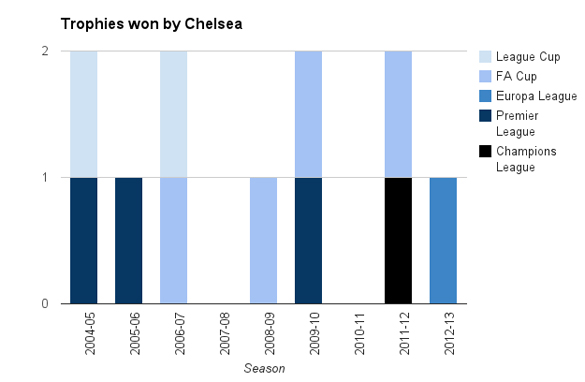 Success has remained consistent. Since 2007 Chelsea have enjoyed a first Champions League triumph in addition to a Europa League win, a Premier League title and three FA Cups.
In the last two seasons, however, Chelsea have been nowhere near the top of the Premier League table.
The two Manchester clubs have battled for supremacy, while Chelsea floundered in sixth in 2012 and finished third in 2013.
Chelsea have suffered an identity crisis without Mourinho and he will be pleased some of his most loyal disciples remain stationed at Stamford Bridge.
Goalkeeper Petr Cech, defender Ashley Cole and stalwarts John Terry and Frank Lampard will know what it takes to succeed under Mourinho and they could be key in creating a sense of togetherness in what often seems a fractured dressing room.
For Chelsea owner Abramovich, he will be hoping the rehiring of a man he sacked six years ago can lead to more European Cup success.
The second coming of Jose will be judged on whether he can finally lead the team to Champions League success after failing to get beyond the semifinals during his first spell in charge.
Mourinho will have an early opportunity to demonstrate he is capable of filling the only gap in his Chelsea resume when his team head to Monaco for August's European Super Cup final.
Their opponents? Bayern Munich.