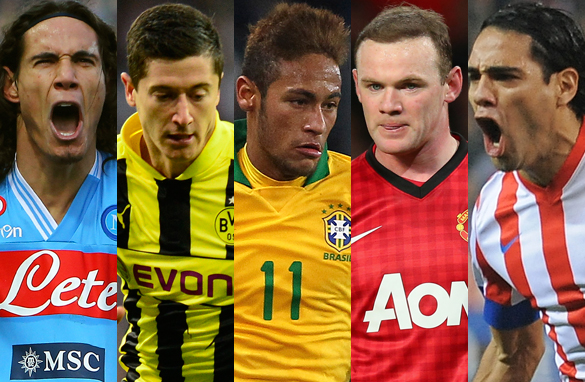 All five of these high-profile strikers could be on the move this offseason.
It's traditional at this time of the year that rumblings and rumors in the football transfer market turn to reality.
As if to stave off the cold-turkey effects of drama-deprived soccer addicts the world over, the wheeling and dealing of players fills in with intrigue and excitement where the culmination of league campaigns leave a vacuum.
The upcoming close-season is shaping up as another blockbuster in Europe. But which of the players on the move has captured your imagination?
In the Bundesliga Mario Gotze has confirmed his move from Champions League nearly men Borussia Dortmund to newly-crowned European champions Bayern Munich in a deal worth $40m.
The 20-year-old was a stand-out performer for his side this year knocking in 10 goals in 28 league appearances, not bad for a midfielder who was side-lined in the season-ending finale.
It may not be the end of the bad news for Die Schwarzgelben boss Jurgen Klopp either, a man still reeling from missing out on club football's top prize, as many pundits predict Polish goal-getter Robert Lewandowski could head to Munich as well.
The 24-year-old sparkled in the Champions League and found the net 24 times in the Bundesliga, his current valuation of just under $40m by TransferMarkt seems a snip in the current market.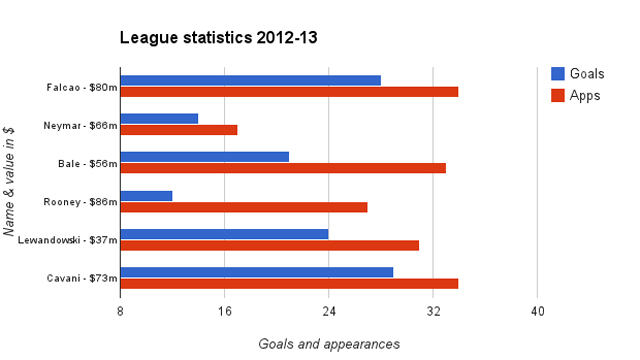 Transfer values taken from Transfermarkt.com.
In Spain, the signing of Brazilian star Neymar to Barcelona for a package reported to be close to $100m has created the salivating prospect of "one of the most promising footballers on the planet" linking up with arguably the current best-in-the-world, Lionel Messi.
Neymar, as poster boy for the 2014 World Cup, was recently ranked as the world's most marketable athlete by Sports Pro magazine - using criteria such as value for money, age, home market, charisma, willingness to be marketed and crossover appeal - so you would imagine the Catalans will be hoping for a business return on their investment as well as entertainment on the pitch.
As a new star rises in the Spanish top division another could be leaving with Atletico Madrid striker Radamel Falcao hotly-tipped to join Monaco, a side boosted by the large investments of their Russian billionaire owner.
The Colombian's scoring rate is awesome in La Liga and he would add talent to a side that has also recently acquired Joao Moutinho and James Rodriguez for an eye-watering $91m from Porto.
According to reports in France a five-year-deal and $75m buy-out has been agreed. How long he stays in the principality remains to be seen, however, as it seems curious that a player with the footballing world at his feet would not chose a more established Champions League contender as an employer.
In England, Manchester United's incoming manager David Moyes has a want-away England striker Wayne Rooney to deal with when he picks up the reins left by Alex Ferguson.
Many feel the change in leadership could see Cesc Fabregas or Cristiano Ronaldo make Old Trafford their home. Certainly, Rooney has not given the value for money to his club in terms of goals that his contemporaries in Europe have this season.
It's also the second transfer request he has handed in three years, a move that has soured his relationship with Red Devil fans. Arguably, it could be a good time for Moyes to cash in.
And if he's got money to spend then why not join the queue for Tottenham's hotshot Gareth Bale. The Welshman bagged 21 goals - many of them spectacular - in 33 games for the London side during this campaign, becoming a talismanic figure in the process.
The attacking midfielder's versatility has got teams from Manchester City to Real Madrid champing at the bit to get his signature.
If he is to leave Spurs it will be for big money as the player's agent - Jonathan Barnett - told Marca TV: "It's crazy but whatever Neymar cost - Gareth Bale is worth more." Only time will tell whether this proves true.
Finally, Rafael Benitez may have left England on a high but he'll be hoping to dent Chelsea's nose by warding them off his Napoli superstar Edinson Cavani.
If British press are to be believed big-spending Manchester City are also in the chase for the Uruguayan who was the top scorer in Serie A last season. Valued at twice the price of Lewandowski, he will have pressure to deliver if he moves.