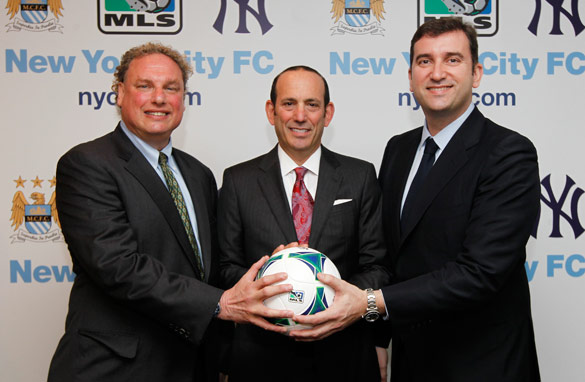 New York Yankees president Randy Levine, MLS chief Don Garber and Manchester City CEO Ferran Soriano revealed the new franchise plans.
Major League Soccer prides itself on its rapid expansion. And with good reason. Just eight years ago, there were only 10 MLS teams alive and kicking.  
That tally will now rise to 20 with the all-new Nycfc set to debut in 2015. But does their arrival on the scene spell double-trouble for the league and are MLS fans as a whole being short-changed by it all?
There's no doubt that relatively-speaking these are boom times for the soccer scene in the States. Attendances overall are up.  Just go to any Portland or Seattle home game and you'll witness a vibrant, passionate crowd that would put a lot of their European counterparts to shame. 
Read: City and Yankees form new MLS franchise
MLS is a sound business model and very much on the right track but I just can't help wondering to what extent the proposed  New York City FC  multi-million dollar deal might be risky business.
Sound financial planning has always been key to the league and its mantra but the  rule-book went out the window to some degree when David Beckham signed on with the L-A Galaxy seven years ago. 
The stringent salary cap was relaxed and in came the three-designated players rule. Now think about it for just a moment.  Would that really be enough for the new franchise's owners?  Remember who they are after all!  Manchester City belong to Sheikh Mansour and as a club – in terms of spending prowess- money is truly no object - and he will demand success. 
And what should we make of the Yankees involvement in all this? I still recall their marketing tie- in with Manchester's "other" club United back in the early 2000s. It didn't last and there always seemed to be a lack of clarity over how it all worked? 
Read: Manchester City sack manager Roberto Mancini
Will things be different this time around? It would appear so and that can only be good news for City who'll be benefit from the Yanks' stature and local clout.  
As I understand it- the most famous brand in baseball will be part-owners and will certainly have a huge say in vital issues like where in fact the new club will play but again we're left wanting to learn more about what exactly their role will be.
I have to conclude this is a great news for footy fans in the New York City area but what about the rest of the country?
The Red Bulls' average home attendance already falls well short of its 25,000 capacity and the Big Apple also has the reformed New York Cosmos on the scene too.
Read: Yankees star Jeter out until mid-July
Is this potentially soccer over- saturation New York style?  I realize it's the allure of the lucrative Nyc market and all that but has the league missed a great opportunity to truly put new meaning into the word " expansion"?
For example- take the huge area of land known as the Southeastern USA. Not an MLS franchise in sight.
Why? Where I live in Atlanta I'd have to travel some nine hours by car to go and watch my "local" team- DC United in Washington!
Having grown up in North West England- the City fans I know would never have dreamed of seeing the day their club would launch a spin-off franchise in the United States - with the added benefit of being able to loan out players to the MLS side.    
Most I'm quite sure would rather the club be fully focused on prioritizing the search for a new manager or improving their woeful recent Champions League record.
In fact- they might even  be wondering  if they'll possibly even get to see Yankees baseball at the Etihad some day!
I have no doubt the MLS' newest franchise will soon become the league's undisputed super-power backed by the world-wide might of City and the Yankees.
I'm left with this nagging doubt though.  Will the other 19 be able to seriously compete? If so, how?  The MLS landscape has changed rather dramatically now and it all seems to have happened quicker than a New York minute.