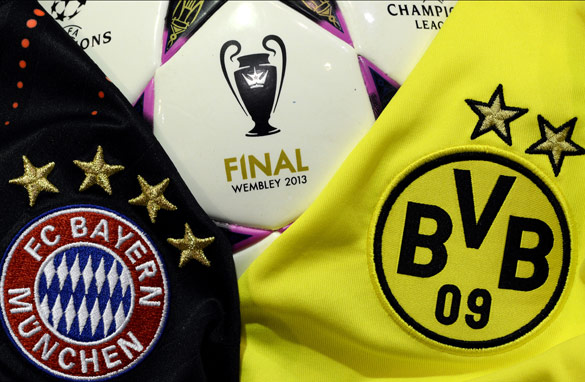 Bayern Munich face Borussia Dortmund in the first ever all-German final of the Champions League on May 25th.
Let's face it, if I could predict the future I would not be working as a sports journalist. Considering all the money I could make foretelling events in the coming days, weeks, months and years to come I would ideally work less than a sloth on strike. Clearly then, this is not a superpower I possess. However, though I can't tell you exactly what will occur in this weekend's UEFA Champions League Final between Bayern Munich and Borussia Dortmund, I can make an informed guess; so that is what I am going to do.
So let's start with the score. I think Bayern will beat their Bundesliga rivals 2-1 so it will be the Bavarians celebrating their fifth European Crown when the dust settles at Wembley on Saturday night.
Bayern will win because they have been the best team in the competition: simple. They have won nine of their 12 games, have scored more goals and conceded less than any other side. They have shown they can dominate games by hogging most of the possession while also being effective as a counter-attacking team against Barcelona. This is a well-oiled machine, which plays to its strengths and seems to score at will against any opposition.
The key to Bayern's success this season has been their wing play. Most of their attacks are conducted down both wings and they rely on deadly combinations between the full backs and wingers to create two-on-one situations around the opposition's box. We all know Franck Ribery and Arjen Robben create goal-scoring chances, but what full backs Phillip Lahm and David Alaba have done is quite extraordinary. They combine for six assists in 12 Champions League games this season.
Ben's stats breakdown: Bayern ...


Bayern Munich are blessed with some of the finest wingers in world football. Dutch flyer Arjen Robben and Franck Ribery of France both have pace, ingenuity and goal-scoring ability. But what makes Bayern particularly potent is the support given by fullbacks Philippe Lahm and David Alaba on the right and left respectively. As the youngest starter in either side, 20-year-old Alaba has been dubbed one of the "biggest talents in European football" by Bayern executive Karl-Heinz Rummenigge and retained his Austrian footballer of the year title in 2013. Lahm, captain of both his nation and his club, has been one of Germany's brightest stars for nearly a decade, making the tournament best XI picks for the 2006 and 2010 World Cups. The master full back and his apprentice offer solid defence but attack with intelligence, often overlapping on the flank to cross with their natural feet to the likes of Thomas Muller and Mario Mandzukic, while Robben or Ribery cut in to the middle to fire in long-range shots (see tactics board below). The stats back up this assessment too: the four wide men make up five of Bayern's top crossers in the competition, Bayern have scored more headed goals than any other team in the tournament (5) and Robben (54) and Ribery (34) both make the top five shot takers for Bayern. Crucially coach Jupp Heynckes has instilled a strong work ethic in all four players, even the once lazy Robben, which means there is a good sharing of defensive and attacking duties as demand dictates.

One can't talk about the German champions without praising Thomas Muller. He has been their most valuable player this season. The young forward has contributed eight goals and two assists while running further than any other Bayern player in the competition. He can play anywhere across the front line and will be crucial to his side's success this weekend.

If there is one major concern Bayern has heading into this final, it is how they are going to overcome their previous failures. Most of the players who are lining up on Saturday have lost two finals, one to Inter Milan in 2010 and another to Chelsea at home in 2012. So if I am Jupp Heynckes right now, I am doing my best to make sure that the players have learned from their mistakes and forget about their final defeats. Otherwise, the doubt and fear of losing another title match could hinder the players' performance.

So what about Dortmund, do they stand a chance? Of course they do, but they will have to be as effective as they were in their 4-1 win over Real Madrid in the first leg of the semi-finals. The fact is that Borussia are not going to boss the game on Saturday. They are going to rely mostly on quick counter-attacks to inflict damage on their rival's defence.

Ben's stats breakdown: Dortmund ...

Where Bayern Munich boast a well-oiled winning machine, strong from front to back, Dortmund are blessed with stand-out individuals that can turn a game with a stroke of brilliance and have a youthful, never-say-die attitude on their side. In fact, they'll be the youngest side to lift the trophy since Real Madrid in 2000 if they clinch victory. Robert Lewandowski has been the Champions League stand-out striker in many ways this season and could become the competition's top goal scorer if he bags a hat-trick (to surpass Ronaldo's 12) in the final. He's particularly dangerous from crosses, scoring one in two goals from this source. What's maybe more impressive about the Pole is his all-round capabilities; he tops the charts for the whole Champions League in terms of challenges won. When Lewandowski is hot he's unstoppable, just ask Real who he knocked four past in the first leg of the semifinal with typically predatory panache. Aside from the striker, could the imminent departure of Mario Gotze add impetus to his final performance? Bayern should be worried if it does as the midfield maestro's stats shows that he has been key to his side's attacks this season (he tops Dortmund's crosses, assists and shots assists lists for his side). Keep an eye on Marco Reus, the 23-year-old who is Dortmund's next go-to man for goals behind Lewandowski. The intelligent attacking midfielder is tireless in application (26 shots assists, 4 goals and 52 shots in total), deft of touch and often moves in positions that are hard to mark for defenders who aren't cute (see Reaus's heat map from the semifinal first leg below - shooting left to right - that shows his pitch-wide positions). He could prove key in unsettling Lahm from his game. Remember too that on form and on paper Bayern were the favourites against Chelsea last year too, and we all know how that turned out.

Don't take my word for it, just check out the stats. In the games leading up to the final, Dortmund averaged only 44% possession, only better than four of the 32 teams who played in the Champions League. Their passing completion percentage was also below average, only 66%. So in other words, they normally like to sit back, stay compact, and then launch quick and direct counter attacks depending on the individual talent of their forwards to make the difference.

And when we speak about individual talent, there are three players who I would like to focus on: Mario Gotze, Robert Lewandowski and Ilkay Gundogan. Gotze, if fit enough to play on Saturday, will be responsible for creating chances in the final third; Lewandowski will have to find space to be in the right place at the right time to finish those chances; and Gundogan is there to set the rhythm and the tone of his side's attacking and defending. If Dortmund are going to win this game, then these three players will have to be at their best.

So those are my thoughts heading into Saturday's Bundesliga Battle. If Bayern win, like I am predicting they will, the Bavarians will take another step towards securing an unprecedented treble: league, domestic cup and Champions League. If they lose, they will have to deal with earning the tag of chokers, as it will have been their third final defeat in four years.