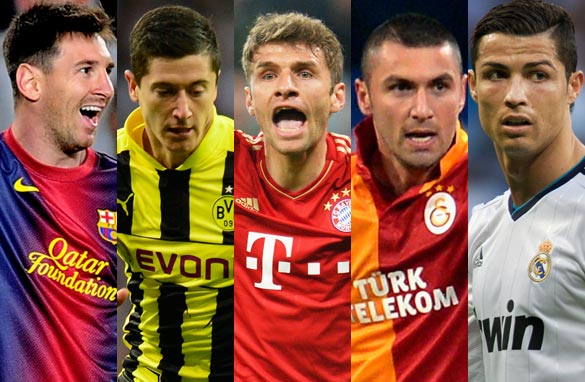 Which of these five players has been the 2012/13 Champions League's MVP? (Getty Images)
After 124 games and 355 goals, there are only two teams left standing in the European Champions League.
Bayern Munich and Borussia Dortmund managed to navigate their way through an intense group stage and six dramatic knock-out stage matches to reach the final, scheduled for May 25 at Wembley.
Since there is still plenty of time to look ahead to the Battle of the Bundesliga, I have decided instead this week to take a look back at what has been an exhilarating season and pick my Most Valuable Player of the competition.
We all know that individuals don't win trophies on their own, but there is always an elite group of players who are the difference between winning and losing key matches.
In order to pick the best player, I wanted to narrow down my choice by identifying the best team, and as I analyzed some key statistics from this season's competition, it became clear to me that Bayern were head and shoulders above the rest.
They have the highest number of victories and goals scored, while also boasting the best defense. The Bavarians were particularly impressive over the last two rounds, beating Juventus and Barcelona with aggregate scores of 4-0 and 7-0.
What about Dortmund? Well as entertaining and dynamic as they have been, and as well as Mario Gotze and Robert Lewandowski have played on the way to the final, I decided my MVP had to be a Bayern player.
So who did I pick? Well, there were a few candidates. At the back, Dante and Philipp Lahm have been outstanding; in midfield, Bastian Schweinsteiger has pulled the strings magnificently; while on the wings, Franck Ribery and Arjen Robben have both had moments of brilliance.
However, in my opinion, the MVP of this season's Champions League has been Thomas Muller.
First of all, let's look at the numbers. For starters, the 23-year-old is the only outfield player to have played all 12 of Bayern's games in the competition this season.
He is their top scorer, with eight goals, and contributed two assists. Muller has also covered more distance, 127 km, than any other player on his team.
They say the numbers don't lie and they definitely tell a story of a player who has been incredibly influential in his side's run to the final.
Of course statistics are only part of the story and when talking about Muller, one can't forget about what makes him so special and that is his versatility. After all, this is a player who can play anywhere across the front line. He can line up as a left winger, right winger, attacking midfielder or striker and be equally effective.
It's not just his high level of skill that allows him to adapt to his different roles, it is also his sophisticated football IQ.
Muller has an excellent sense of positioning and has shown repeatedly he can be at the right place at the right time in key contests.
He is a guy who can show up at the near post to score with a flick, stay on the edge of the area and hit the back of the net with a powerful shot, or pop up at the far post to tap in a cross. Just ask Barcelona…
So there you have it. Thomas Muller is my pick. What do you think? Send us your votes.