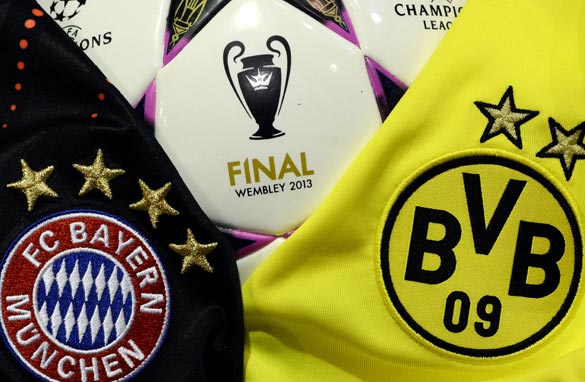 For the first time, a deutsches derby will decide who is the best club side in Europe. (Getty Images).
With its youth system, strong national team, and financial prudence as well as the entertaining style of football employed by both the country's international side and its top clubs, it's not difficult to understand why Germany has been branded a soccer success.
And it is. Just not as much as we perceive it to be. Yet.
While the march of Bayern Munich and Borussia Dortmund to Wembley has been thrilling to watch, it's too early to tick the box marked "Era of German domination."
Bayern's haul of four European Cups is impressive but Liverpool, A.C.Milan and Real Madrid have all done better. And the Munich giants haven't conquered the continent since 2001.
Only two other German clubs have also won the tournament whereas England has produced five different champions.
In total, German sides have only six titles between them, well behind Italy and England, with 12, and Spain's 13.
Even the much vaunted Die Mannschaft can't claim to be the best ever international team. Their tally of three World Cup victories is impressive, but they last won the event in 1990, almost a quarter of a century ago.
Brazil, France, Italy and Spain have all enjoyed periods of international superiority since then.
However, no-one can equal Germany's record of 12 top-four finishes in World Cups and that consistency is now allied to, arguably, the most exciting crop of young footballers the country has ever produced.
As my CNN colleague Tom McGowan wrote this week, Germany have strength in depth from defense to attack. Manuel Neuer, Matts Hummels, Iklay Gundogan, Mario Gotze, Marco Reus and Thomas Muller, to name but a handful, make national team coach Joachim Low the envy of his peers.
Germany's youth system and the relative buoyancy of its national economy are two key reasons behind their football ascendency. Any talent identification manager will tell you that growing a sport and improving standards is a numbers game. In essence, the more youngsters who play, the more stars you'll end up with.
Germany has tapped into its large Turkish, Polish and African immigrant population. And the scary thing is, it could do better. Being born in the country doesn't automatically entitle you to German citizenship. You have to apply for it.
That process is bound to dissuade some immigrants' children, although plenty still choose to play for Germany rather than the nation where their parents or grandparents are from.
Mesut Ozil and Sami Khedira are two examples, although their stock has fallen slightly since their move to Real Madrid. And that's where my point about the economy comes in. Many Spanish football experts I've spoken to this week insist their country's austerity measures are having a negative impact on the clubs. Although the financial weakness of La Liga, Real and Barcelona apart, is not a new thing.
In contrast, Germany is dealing with the global economic downturn better than many other nations and the Bundesliga is one of the best run leagues in the world.
According to accountant Deloitte's reputable Sports Business group, Germany's Bundesliga is only the fourth richest in Europe behind England, Spain and France.
However, it's growing fast. It already has the best attendances of any of its European rivals while revenues for the entire league broke the $2.6 billion barrier for the first time last season.
So that's the reality, but let's return to the perception or, if you like, the X-Factor that German football has always had.
I was amused to see former England striker Gary Lineker's name trending on Twitter during Bayern's first-leg demolition of Barcelona.
It was down to fans poking fun at Barca defender Gerard Piqué who claimed, before the game, that Lineker's famous quote - "Football's a simple game. You play for 90 minutes and then the Germans win" - isn't true any longer.
After a 7-0 aggregate thrashing and the first all-German Champions League final, it's never felt more true.
It used to be a soccer stereotype. A slightly lazy cliche that didn't always bear close scrutiny: Germany always winning at football.
Yet, as Bayern Munich and Borussia Dortmund imperiously brushed aside La Liga's leading clubs in the UEFA Champions League semifinals, the reality is coming close to matching that perception.
We've seen all-Spanish, English and Italian finals in the Champions League. Now, for the first time, a deutsches derby will decide who is the best club side in Europe.