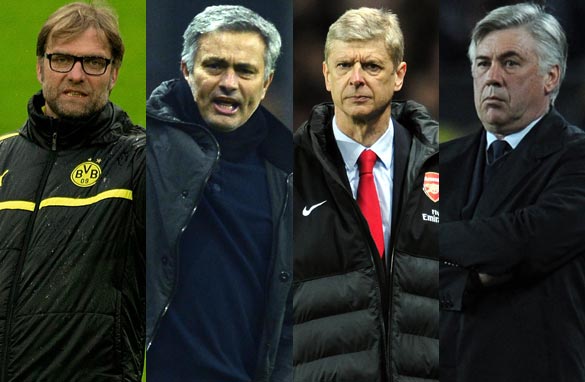 Jurgen Klopp, Jose Mourinho, Arsene Wenger and Carlo Ancelotti could all be on the move. (Getty Images).
No sooner had the final whistle blown on the semifinal victory by Borussia Dortmund over Real Madrid, than speculation swiftly turned to whether this was also the final whistle on Jose Mourinho's career at the helm of the Spanish giants.
Never one to miss a trick in tantalising the press, the self-dubbed "Special One" shaped the narrative of the media response to the defeat by suggesting in post-match interviews that he "might not be" in charge of Los Meringues next season.
"England," he stated, "is where I know … I am loved. I know I am loved by some clubs, especially one."
It doesn't take a genius to work out that Mourinho is hinting at a return to former club Chelsea, the London side he steered to two English Premier League titles.
Madrid has notoriously high standards of success and it is plausible to think that failing to secure "La Decima" has done for one of the most decorated coaches in modern times.
The rumour, if proved true, could be a catalyst for an almost annual merry-go-round of managerial moves that puts new leaders in charge of Europe's biggest teams. If you believe some of the most reputable newspapers across the continent this could pan out in the following butterly effect scenario:
1. The Times and Bild both reported that despite Mourinho's agent having talks with PSG, the Portuguese is destined for a return to Chelsea come the end of the season – a move that would rekindle his love affair with English football
2. This would leave a vacancy at the helm of Real, a job that La Parisien – via sources within the board of PSG – claimed would be taken by Carlo Ancelotti after an agreement was made by the two clubs earlier this year and with the Italian on the way out
3. Such a scenario would fit with reports by the Daily Telegraph this week of boasts by senior figures within PSG of prising Arsene Wenger away from Arsenal to fill the gap Ancelotti might leave
4. And if recent CNN FC pundit and football writer Patrick Barclay is to be believed – writing for the London Evening Standard – any opening at Arsenal should be filled without delay by Dortmund's Jurgen Klopp given the German's "stature and elegance"
5. Arsenal might not be the only vacancy to fill in England, with rife reports that Roberto Mancini will be unceremoniously dumped by Manchester City after failing to defend the title. Malaga's Manuel Pellegrini could find his way to the Sky Blues according to the Daily Mirror and The Guardian
This is just one scenario of course, built on nothing more than journalist tittle-tattle and theories cobbled together from crumbs of truth; however, the potential domino effect across Europe could be remarkable.
In the modern day Champions League, a small elite group of multi-lingual managers have emerged – able to coach high-profile clubs in different nations – and the big moves of the close season will undoubtedly involve them.