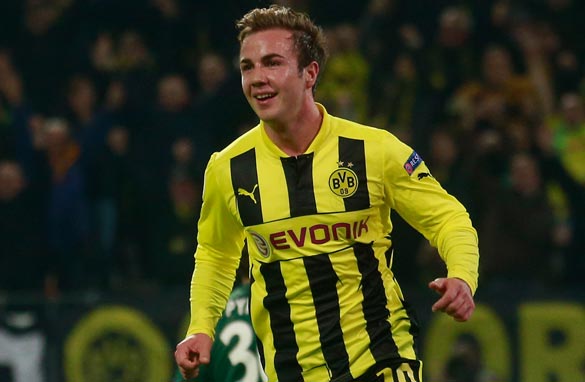 Borussia Dortmund's Mario Gotze will be playing for Bayern Munich next season. (Getty Images).
"Almost impossible." That's how former German international striker Oliver Bierhoff described the task his country face in trying to win the 2014 World Cup in Brazil.
On the evidence of last week's Champions League semifinal first legs, Bierhoff is mistaken.
Bundesliga giants Bayern Munich and Borussia Dortmund could both capture continental glory after four-goal hauls against Barcelona and Real Madrid respectively, but the big winners look set to be the German national team.
A look through the starting line ups for both Bayern and Dortmund reveals an array of young, exciting, vibrant, German talent which must have national coach Joachim Low licking his lips.
"Both German teams are very good, without a doubt, as are the national team," Real coach Jose Mourinho was quoted as saying on FIFA's website. "There is a generation of players in Germany of great quality and they will be candidates to win the next World Cup."
Bayern's team revolves around a core of German players reaching their collective peak.
Colossal goalkeeper Manuel Neuer enjoyed a largely trouble-free evening against Barca, stationed behind a back four which included national team captain Philipp Lahm and athletic centre back Jerome Boateng.
Thomas Muller scored a brace and constantly troubled a dishevelled Barca backline, while Bastian Schweinsteiger - a veteran of 98 Germany caps at the relatively young age of 28 - expertly contained midfield opponents Xavi and Iniesta.
And all of this without Toni Kroos, the 23-year-old playmaker widely regarded as one of Europe's most prominent rising stars.
Swelling Bayern's fearsome ranks next season will be Mario Gotze, a $48 million man signed from Dortmund who starred alongside four-goal hero Robert Lewandowski during last week's 4-1 rout.
Lewandowski might be Polish but Marco Reus is homegrown and, bedecked in black and yellow, resembled a wasp constantly stinging the Spanish champions.
Even the threat of Cristiano Ronaldo was nullified by the disciplined Iklay Gundogan. The 2011 signing from Nuremberg looked at home in the heart of a high-stakes midfield contest and outshone his Spanish counterpart Xabi Alonso.
Ronaldo's only moment of joy came following a rare lapse in concentration from Mats Hummels, a young defender who is reportedly attracting admiring glances from Catalonia.
A 4-1 defeat for Madrid and a 4-0 loss for Barca would have had their Spanish stars sweating over an humiliating Champions League exit.
But perhaps the bigger question mark hangs over La Roja's reign at the top of world football.
Two Spain-based German internationals were certainly given food for thought.
Mesut Ozil and Sami Khedira were both anonymous during Madrid's no-show at the Westfalenstadion.
Spain have ruled the international roost for the last five years, winning two European Championships and a first World Cup crown in addition to a continental title at under-21 level.
Vicente del Bosque's team may have reigned supreme, but Germany have also enjoyed admirable consistency.
The Germans have reached three semifinals and the Euro 2008 final in the last four major tournaments.
With Low agonizing over how best to push Die Mannschaft over the finishing line, the key might just lie with some of the talent rising through the ranks.
Both Bayern and Dortmund played with an intensity and purpose which made tiki-taka look dated and pedestrian.
Euro 2012, won by Spain after an emphatic 4-0 win over Italy in the final, was a first major championship for Gotze, Rues, Hummels and Gundagon.
Two years wiser, and possibly with Champions League winner's medal in their back pockets, the young quartet might provide the spark which fires a German World Cup triumph in Brazil.