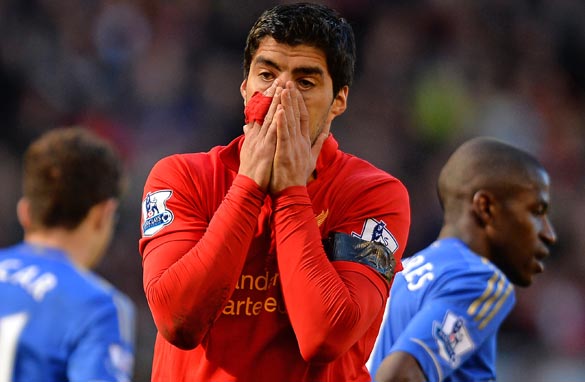 Does Luis Suarez's lofty status mean he should set a better example? (Getty Images).
English Premier League footballers have it pretty good. They are rich, famous and idolized by millions of fans around the world.
It would be fair to say they are reaping the rewards of all the work done by English football officials over the last 21 years in making the nation's top flight the most marketable and profitable soccer product on the planet.
However, as the Luis Suarez case showed this past weekend, the increased money has brought increased scrutiny, and that means players need to realize they have a responsibility to act in a professional manner.
Right now, the English Premier League is broadcast in 212 territories to 643 million homes and has a TV audience of 4.7 billion people.
Those are numbers released by the league itself, which has worked along with TV rights holders BskyB since 1992 to make it the most watched club football competition on the planet.
Every year the coverage has improved and right now every game is televised in HD with the host broadcaster using over 20 cameras to capture every inch of the pitch.
This means players can't get away with anything. Twenty years ago, I suspect Suarez could have bitten Branislav Ivanovic without ever being caught.
I remember when Vinny Jones squeezed Paul Gascoigne's genitals during a First Division game back in 1987.
Even though the picture became part of football folklore, there was never any video and there was certainly never an investigation.
I have also spoken with many former players who used all kinds of tactics to disrupt opponents, such as poking or pinching various parts of their bodies when the referee wasn't looking.
What has happened over the last two decades is that with increased coverage and exposure, players in the world's top leagues have become accountable for their actions.
Whether they like it not, that is the case. It begs the question, are they educated accordingly by their respective clubs?
Effectively, modern day footballers have become reality TV show characters starring on a global stage with fans judging their every move. That is the price they have to pay for their outrageous wages and luxury lifestyle.
Regarding Suarez, he should have known better. He was caught biting a player in a Dutch League game in November 2010 and served a seven-match ban.
In December 2011 he was banned for eight matches for racially abusing Manchester United's Patrice Evra. Surely someone at the club has spoken to him about his conduct on the pitch and explained what he can and cannot do and say?
Players around the world should pay attention to the Suarez incident and the punishment surely heading his way. They should realize they have a responsibility to live up to the high expectations which come with being a highly paid superstar.
As this case has shown, nothing they say or do on the pitch will go unnoticed.