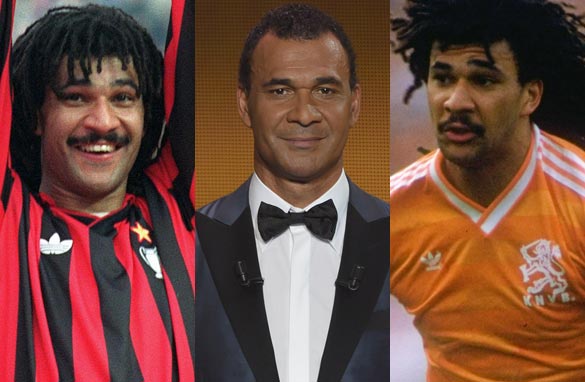 Ruud Gullit (right), this week's guest on CNN FC, won back-to-back European titles with AC Milan. (Getty Images).
A European champion with club and country who was once crowned the continent's finest player, Ruud Gullit's pedigree in unquestionable.
Now the midfielder is adding the CNN Football Club to a CV which already boasts AC Milan, Sampdoria and Chelsea.
The mercurial Dutchman was in the studio to assess this week's European Champions League quarterfinal ties, a competition he won twice as a player.
In fact, Gullit's AC Milan team which lifted club football's most prestigious trophy in 1989 and 1990 was the last to successfully defend the title.
And that is the subject of our latest poll, which this week asks the questions is the modern Champions League harder to win than the old European Cup?
Former Netherlands captain Gullit, who was capped over 50 times for his country before embarking on a managerial career which has seen him take charge of Chelsea, Newcastle United and Los Angeles Galaxy,  also faced your questions as the CNN Football Club put him On the Spot.
How did it feel to lift the Netherlands' first and only major trophy? What was it like to play alongside Frank Rijkaard and Marco van Basten for club and country? Can any current team match Milan's achievement and win the Champions League in consecutive seasons?
Vote in the poll above and don't forget to tune in to the CNN Football Club on CNN International at 1700 GMT on Thursdays.
You can also have your say by following our @CNNFC Twitter account or visiting the show's Facebook page.