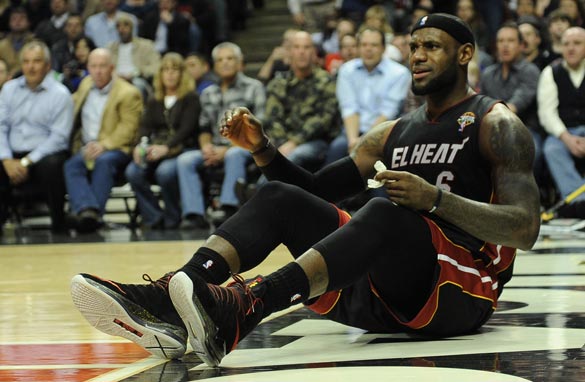 LeBron James and the Miami Heat were six games short of the NBA's winning streak record. (Getty Images).
The Miami Heat's loss in Chicago on Wednesday was their first defeat in nearly two months and snapped a 27-game win streak.
Miami had needed just seven more wins to beat the all-time NBA mark of 33 consecutive wins held by the 1971-72 L.A. Lakers.
Despite falling short in their history bid, Miami should be praised and respected by basketball fans around the world.
The NBA has long been criticized for teams not taking the regular season seriously enough, and only kicking into gear come the post-season. Even casual basketball fans often admit to bypassing most of the mid-season games and tuning in once the play-offs begin.
LeBron James, coming off a first career Championship last season, has proved that regular season basketball does mean something.
In arguably the best form of his career, James inspired his team to give it their all - night-in and night-out for the best part of two months.
During that remarkable stretch, the Heat won at Oklahoma City - the team they beat in last year's Finals - overcame a 27-point deficit in Cleveland (LeBron's former team) and held on in Boston despite a 43-point performance from Jeff Green of the Celtics.
Yes, Miami faced bad teams during the win streak as well, but there's something to be said for a good team actually beating the teams it's supposed to beat.
That's not as easy as it sounds.
Just look back at San Antonio (first in West) losing in Minnesota (13th in West) earlier this month.
In the end, Miami will probably win a second straight NBA title come June.
But titles are won by teams every season, and it's not every season that you see a team leave it all on the floor over a sustained period of time.
That should not soon be forgotten by Heat fans and rivals alike.