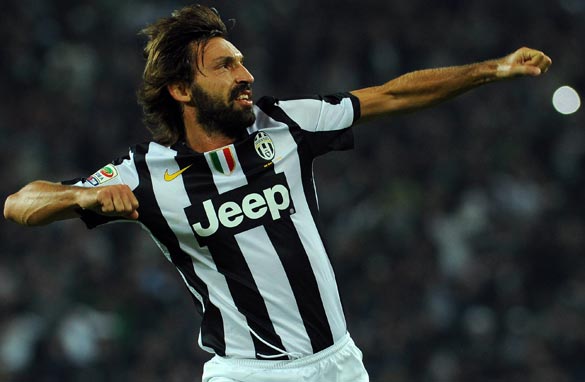 Andrea Pirlo is key to Juventus' chances of beating Bayern Munich. (Getty Images).
Watch the CNN Football Club every Thursday at 1700 GMT and join the the show's social debate on Facebook and Twitter.
Everywhere I look, everyone I talk to, has Bayern Munich as the favorites in an upcoming high-profile European Champions League quarterfinal clash with Juventus.
I honestly can't believe it. In my book, the Italian giants will not only knock the Bavarians out of the tournament, but they could go on to lift the trophy at Wembley in May.
I have said it for a while and I will say it again: Juventus may be the most underrated team in Europe.
Over the last two seasons, they have lost only six competitive games. In the Champions League this season, "La Vecchia Signora" has yet to lose a single match and the side boasts the best defense in the competition with just four goals conceded in eight matches.
The strength of their defense is the main reason why I believe Juventus are contenders to win this season's tournament.
You need to have a solid back line to win the competition, and they certainly boast some of the best stoppers in Europe.
Earlier this season I argued that Leonardo Bonucci was the Champions League's top defender, and whether you agree with me or not, you have to appreciate the class of the defensive line he forms with Andrea Barzagli and Giorgio Chiellini.
They are a nightmare for most forwards that come up against them and the bad news is that even if you manage to beat the defense, then you still have to find a way to score past goalkeeper Gianluigi Buffon.
The second reason I consider them favorites to knock out Bayern Munich is they have the second best playmaker on the planet.
I would put Barcelona and Spain midfielder Xavi at number one, but Andrea Pirlo isn't far behind.
We all know what he did at Euro 2012 with Italy but his form with Juventus over the last season and a half also needs to be heralded.
This guy is something special. Without ever huffing and puffing in the center of the park, he is always in the right place at the right time, pulling the strings and setting the tempo for Antonio Conte's side.
Need a short pass? He's got it. A long ball? No problem. Pirlo can do it all and he can do it with a high level of efficiency.
He has attempted and completed more passes than anyone else on the team and also leads Juve in assists with three in eight games.
Of course no team is perfect, and if there is one weakness the Italian giants have, then it is the lack of a quality center forward.
Neither Fabio Quagliarella, Alessandro Matri, Sebastien Giovinco nor Mirko Vucinic would feature in the top 10 strikers in the competition.
But you know what? Together, they have all aided their side's cause and helped Juve score 17 goals, second only to Bayern and Real Madrid.
So underestimate Juventus at your peril. This is a real contender, and the Italians will prove it next month in Munich and Turin.