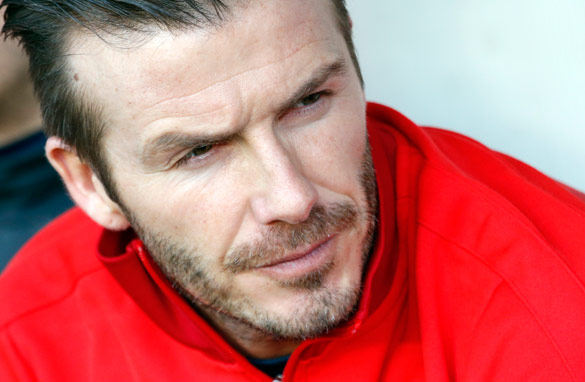 David Beckham's career maybe in its twilight but he is still a world beater in terms of earnings. (Getty Images).
Watch the CNN Football Club every Thursday at 1700 GMT and join the the show's social debate on Facebook and Twitter.
David Beckham may be coming to the end of his career but he is still a man who can top a league. France Football magazine recently published its list ranking the world's richest footballers and according to the publication the midfielder earned over $46 million last year, more than the two maestros considered by most fans to be the best players on the planet: Leo Messi and Cristiano Ronaldo. Few soccer superstars can boast the business clout of "Brand Beckham", but how has the former England captain been able to hold on to his appeal? How is he still making more money in endorsements as a 37-year-old player past his prime, than the finest footballers of the current generation?
After pondering this phenomenon, two key reasons seem unavoidable when trying to explain the financial success of the most marketable player in the world. The first is image. They say in today's world, image is everything, and it has certainly been a huge part of this man's success.
Everyone who has worked with Beckham and for Beckham deserves a lot of credit for the nurture given to his career since he played his first match for Manchester United back in 1993.
Highs and lows have been navigated with aplomb throughout his career by a PR machine that never stops turning. The highs were accentuated and the lows were absorbed. This is a man who always said the right thing at the right time. And you know what? He always looks pretty good when he is saying it too.
A concrete example of how Beckham and his PR team protected his image against adversity was back in the 2006/2007 season, when Becks was dropped from Real Madrid's first team by Fabio Capello. A few days later, the club decided it was not going to renew his contract and it forced the England midfielder to find a new team.
He did, signing with the Los Angeles Galaxy in January of 2007, only to hear Real coach Capello announce later that month that he would never play for the Spanish giants again. Now a player of his profile and caliber could have easily kicked up a fuss. He could have protested publicly and demanded more respect, probably rightly so. But he kept quiet and kept working hard. Beckham eventually proved he deserved another chance and played a key role in Real's run to win the Spanish League crown.
That leads me to the second reason why Beckham is still so popular and so marketable. He is a winner. He won trophies at Manchester United, Real Madrid and L.A. and the odds are he will also win titles at Paris Saint-Germain. So who wouldn't want to be associated with a winner? That is exactly why so many brands pay so much money to have their products around his face and on his body.
Beckham is a prized asset to have on the pitch and PSG will profit from his presence at the Parc des Princes both in football and financial terms. Don't be surprised if he sticks around the City of Light for another season. After all, there is silverware to be won, and money to be made.