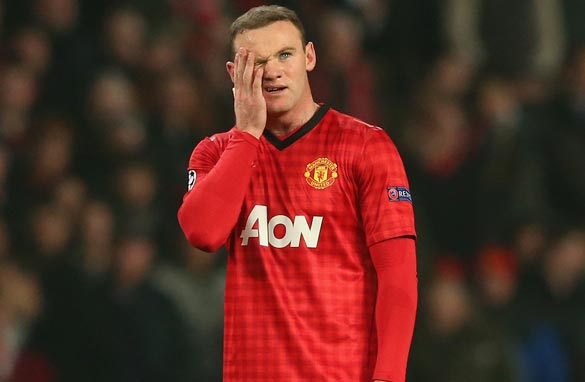 Wayne Rooney played a bit part as Manchester United were beaten by Real Madrid (Getty Images).
Almost since its inception, the English Premier League has been lauded by many as the world's greatest football division. Its mix of history, big-club glamor, international superstars, explosive on-pitch action and passionate fan support have combined to create a product that has fans in Singapore and Sao Paulo salivating as much as those in Salford, Manchester.
However, proving which nation has the strongest top league on Planet Earth is a tricky task; there are so many factors on which to grade them. Whether it's average attendance at games, money spent on players, the rate of big teams losing to small, goals per game, the ratio of Brazilians per club or whether the Beckham family can be found on the terrace, the options and methods with which to rank such leagues are as endless as the time it takes to decide a new Pope.
Shining like a beacon of truth in this sea of confusion and befuddlement is the European Champions League, a competition whose allure and pedigree stands above all others in world soccer. It's the elite club competition that has billionaire team owners, the smartest of tactician-managers and the world's finest footballers straining every sinew to win.
Lifting the big-eared cup is the ultimate confirmation of determination, skill and ingenuity applied consistently at home and abroad by a team that, by definition, has a sum value greater than its individual parts.
Accordingly - and for many including this author - it is the litmus test for the quality of a national franchise: logic dictates that if domestic clubs progress well in the knockout stages they have been well-prepared by their week-to-week league opponents. By this measurement England has a reason to be fearful.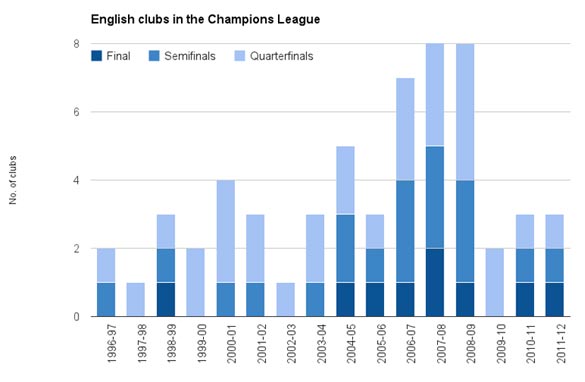 This chart shows when English clubs have reached the quarterfinals, semifinals and final.
If Arsenal get knocked out by Germany's Bayern Munich (avoiding this would surely be a feat to rank alongside Arsene Wenger's greatest), it will be the first time since 1996 the Champions League quarterfinals are without an English side. Bar Chelsea's against-the-odds heroics, it would have been the same last year too.
On the face of it this looks like a dramatic demise from the zenith of the 2007-08 season, when three English sides filled the four semifinal slots and Manchester United were crowned champions (the Lions of St. George presumably roared with satisfaction too). But it would probably be premature to write off the Premier League just yet.
The fortunes of football teams are always subject to ebb and flow and it could be argued that English clubs are due an upswing soon. Chelsea are in a transition phase, with Rafa Benitez struggling to cope with a side that still needs to be shorn of ageing limbs. The London side have a very ambitious owner in Roman Abramovich and it is hard to see his spending spree ending anytime soon. Once a stable manager is in place, expect reinforcements and a reignition of European form to follow.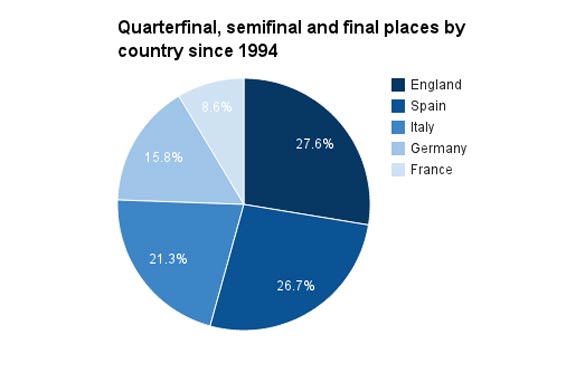 England has had more teams in the quarterfinals, semifinals and final than any other country.
Manchester United were close to knocking out one of the competition favorites Real Madrid last week, so they're not in bad shape. As long as the health of Alex Ferguson continues and Wayne Rooney stays put, the Red Devils have minimal maintenance work (mainly in midfield and central defense) to compete in order to challenge again.
Manchester City, another side backed with vast wealth, are finding their feet in Europe but have a squad of such strength and depth they will be more than capable of doing damage to Europe's finest next season. The big question remains as to whether Roberto Mancini is the right man-with-the-plan? Probably not, in City's case.
Arsenal have declined in recent seasons, just ask any Emirates season-ticket holder if you want confirmation. Their quality and superstar quotient is down on the high of the Thierry Henry-years, but they are a club who do have money to spend. Wenger faces the choice of loosening their purse-strings or being regularly usurped by London rivals Tottenham Hotspur.
The last two seasons may have been disappointing in terms of collective return but there are two good reasons why this Anglo-shortcoming is probably more of a blip than a trend:
1) In terms of overall quarterfinal, semifinal and final appearances, England still outranks Spain, Italy and Germany. Only Spain can change this order this season, such is England's lead.
2) The Premier League has spending power that puts it top in transfer spending of European franchises for the last 10 years. In the modern game, success requires money and England has plenty of it.
So no crisis just yet, but a measure of success England's football bosses might consider is the much higher ratio of homegrown talent currently propelling the finest clubs in Italy, Spain and Germany. Now there is a crisis in the making ...