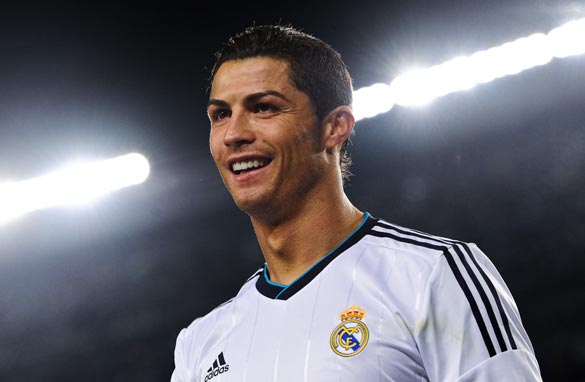 Should Cristiano Ronaldo leave the Bernabeu and return to Old Trafford? (Getty Images).
Ever since Cristiano Ronaldo admitted to being unhappy at Real in September last year, speculation has surrounded the future of the Portuguese star. His form may have been nothing short of miraculous but his Madrid-based ambitions remain plagued with vacillations.
The European Champions League glamor tie with his former club Manchester United has seen this area of unease brought into focus following a spurious report in El Pais that Real would sell Ronaldo if he didn't commit to a new contract and after former teammate Nemanja Vidic told reporters he wouldn't be "surprised" by a CR7 return to Old Trafford.
Whether driven by unhappiness in Spain, his love for the English Premier League, or due to stalling contract negotiations at the Santiago Bernabeu, according to some, it seems it is only a matter of time before the 28-year-old goes back to Old Trafford.
So what can we make of this speculation, and should CR7 move back to the club which made him a superstar? Let's talk about the speculation first.
I know for a fact Ronaldo is regularly in touch with Alex Ferguson. He told me so when we met up last November in Madrid. I also know that his agent, Jorge Mendes, has a good relationship with Fergie and believes a return back to Old Trafford would improve his client's brand and commercial revenue.
Mourinho: Whole world will stop to watch
The truth is Mendes and Ronaldo have become tired of all the infighting at Real Madrid and both of them believe all the negative energy around the club has affected the player's image.
A return to United would allow Ronaldo to have more emotional support and also increase his chances of winning some of the individual awards he craves. After all, the Premier League is the highest profile domestic league on the planet.
So what would need to happen for a deal to be done? Well, United would have to make a bid that Real Madrid could not refuse.
I would say giving up Nani, David De Gea and around $80 million would get the conversation started. After that, it would come down to how much Ronaldo really wants to leave and how much he pushes for a transfer.
Having said that, I still don't think the winger will move at the end of the season. It is my belief that Jose Mourinho will exit the Santiago Bernabeu come May, a move that will relieve some of the tension around the club. But Ronaldo will stick around for at least one more campaign.
He would like to be part of the club's history and beat a few more records before turning his back on Madrid. I also think he doesn't want to leave while Leo Messi is still considered a better and more successful player than he is.
So onto the second part of the question I asked earlier, should he leave at the end of the season? No, I honestly don't think there is any rush to go back to Old Trafford.
His form at Real is incredible, his goalscoring stats are amazing, and he should make sure he leaves on good terms. Forcing a move in a few months' time would only leave a sour taste in the mouth of everyone in Madrid and tarnish his legacy at the most famous club on the planet.
My advice to Cristiano would be to stay for another season and then leave in 2014 when there is a year left on his contract.
Go back to Manchester when he is 29 and enjoy another three or four years working with Ferguson, before the great old man of football retires, in the Premier League.