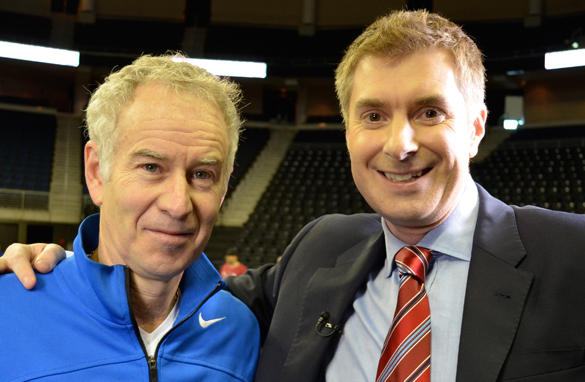 CNN's Don Riddell interviewed U.S. tennis legend John McEnroe for the Open Court show.
Young sports fans don't know how good they have it these days. When I was growing up in England, there was none of the wall-to-wall HD TV coverage that exists of almost every sport now.
There was no Internet, no cable or satellite, no ESPN or Sky Sports and certainly no CNN World Sport. We didn't know what we were missing; in hindsight, the bad news was that there wasn't much sport on TV, the good news was that you were avidly drawn to whatever there was. Saturation wasn't anyone's concern.
And, be it football, golf, boxing, cricket or tennis, the top performers quickly became household names.
In Britain, it was hard to avoid Wimbledon every summer and it was impossible to miss the brash, angry young New Yorker John McEnroe.
I've been fascinated by him ever since he stood there shouting in the corner of our family's living room; a scrawny punk rocker in shorts, challenging authority, battling his opponent almost to the death. McEnroe played in a time before professional sport had become overly commercialized, an era when personalities could be themselves; more recently, corporate obligations have blunted some of the more charismatic stars.
Ever since I became a sports journalist I'd wanted to interview McEnroe and when he developed into an engaging and insightful commentator, respect was added to my curiosity.
John McEnroe: 'Attila the Hun' of tennis
I got my chance when I learned that the "legends" PowerShares series tour was coming to Atlanta. An interview was arranged through the tour's PR department but I was warned that it would only be for a limited period of time and it was unlikely to be an extensive conversation.
I was prepared to take my chances, but things didn't look good when I arrived at the venue; the players had arrived from the previous tour stop at 2 a.m. earlier that morning, apparently everyone was grumpy, there was 'no way' Johnny Mac would be sitting down for 20 minutes.
Well, it never hurts to prepare for the worst while hoping for the best and McEnroe was as charming and engaging as I'd hoped he would be. Even though he's in his early 50s, you only have to watch him play a couple of points or listen to a snatch of his commentary to know how passionate he remains about his sport.
Once he began reminiscing about his roots and the game that has defined his life, he was in no hurry to leave. He's razor sharp, witty and he communicates the intricacies of tennis with ease – he'd have made a great teacher.
Follow @CNNOpenCourt on Twitter
His eyes are alive with enthusiasm and, as he talks, one detects more than a cheeky glint. I got the sense that he's still boy at heart, a boy that doesn't always take himself too seriously; at times he can be self-deprecating, it's one of his most charming traits.
The topics we covered leaped from the greatest female tennis player of all time to America's long wait for a men's grand slam champion, the current "big four," why umpires needed to be questioned, being rediscovered by the YouTube generation and who would play Johnny Mac in a movie.
I was lucky to be able to spend around 20 minutes with one of the greatest legends of sport. And by the time we shook hands at the end, he had -– in my eyes -– only enhanced that reputation.