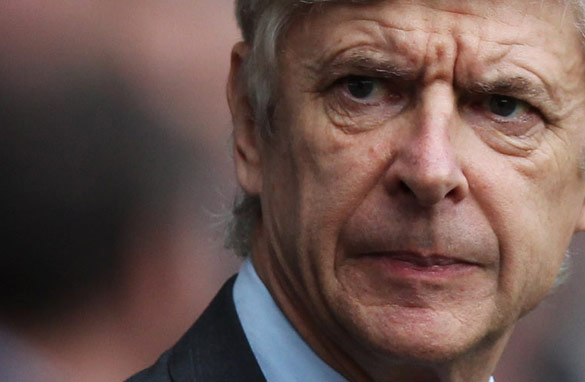 Is Arsene Wenger's reign at Arsenal coming to an end? (Getty Images).
I first said it three years ago and I will say it again now: Arsenal need a new manager. Arsene Wenger had a great run, but all good things must come to an end. Eight years without a trophy is not acceptable and the fact the club's best players keep leaving is a clear indication they no longer believe in the Frenchman's philosophy.
Let me make one thing clear. My opinion has nothing to do with this past weekend's FA Cup defeat to English second-tier side Blackburn Rovers. And it wasn't Arsenal's elimination from the League Cup - the lesser of England's two domestic knockout competitions - to lowly fourth division side Bradford either, though even now reading that statement tests credulity.
More that, for years now I have seen him lose the Midas touch that delivered so much glory to the proud North London side at the start of his tenure. Unfortunately, the time has come for the owners to recruit a new man with a new plan.
The trophy drought is indeed worrying, but if I were an Arsenal fan, what would really concern me is the fact that most of the team's best players don't want to work with Wenger anymore. Just look at some of the stars that have abandoned Arsene's ship - Ashley Cole, Kolo Toure, Thierry Henry, Mathieu Flamini, Cesc Fabregas, Samir Nasri, Alex Song and Robin Van Persie. Together, over the last eight years, all the players who have left the Gunners have gone out and won a combined 75 trophies. While Arsenal, as you know, have won none.
Obviously, many of those players I mentioned left because of money. The club has a strict wage structure and the owners deserve part of the blame by refusing to compete with some of Europe's big spenders.
But the current situation is the culmination of a strategy that has been wrong for a long time. Wenger acts surprised when his best players leave in each close season and then stresses over the little time that remains to sign quality replacements. It happened in 2011 with Cesc and Nasri. It happened again last summer with Song and RVP. This has become a club that hopes for the best in the face of the brutal reality that money talks in the modern game.
The final indication that Wenger's time has come at Arsenal is his loss of composure. Tired of seeing his team fail time and again, cracks have started to appear in his rusty armor. Earlier this season the 63-year-old was seen snarling at journalists' persistent questions about failure, and on Monday he simply lost his cool. In the press conference before Tuesday's Champions League clash with Bayern Munich, Arsene went into attack mode and reacted aggressively to suggestions he had not taken the Blackburn game seriously and he was about to sign a new two-year contract.
This from the man dubbed "The Professor" by adoring fans in his Gunners heyday for his suave sophistication and delivery of silverware via swashbuckling football to the Highbury faithful.
All the signs are there. The song is coming to an end, and Wenger and Arsenal have to stop dancing together. The  coach deserves credit for building one of the greatest teams in Premier League history since he arrived from Japan's Grampus Eight in 1996 and he has led the Gunners into the Champions League group stages year in and year out.
However, finishing fourth cannot be a satisfactory objective for a club of Arsenal's stature. Trophies have to be won, and it seems they will have to be won with someone else sitting in the dugout.
Don't forget to tune in to the CNN Football Club on CNN International at 1700 GMT on February 21.
You can also have your say by following our @CNNFC Twitter account or visit the show's Facebook page.