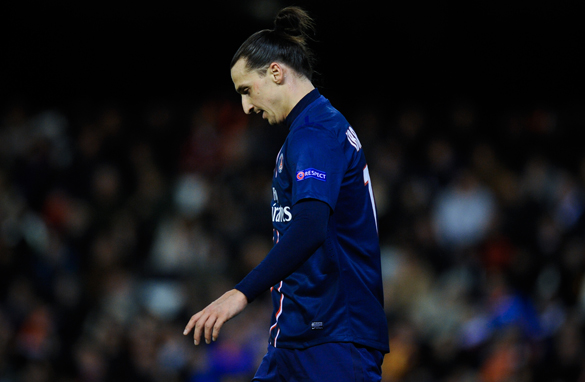 Zlatan Ibrahimovic was sent off during PSG's win over Valencia (Getty Images).
Why, Zlatan? Why did you have to do it? Your team was winning, there were just a few seconds left in the game, so what possessed you to stamp on Andres Guardado?
A lot of football fans are asking those questions today. It is difficult to understand why Zlatan Ibrahimovic lashed out at an opponent with Paris Saint-Germain in control of a European Champions League match against Valencia, earning the Swedish international a red card.
However, you shouldn't expect an answer from the star striker, his teammates or his manager Carlo Ancelotti. I'm not sure anyone can comprehend some of the things the Swede does on the pitch.
But you know what? When it comes to Zlatan, not understanding is exactly the point. And that is why he is a hero in the world of football.
For years I have watched the lanky forward perform live at various stadiums around Europe and the only thing that I can say is that he never ceases to surprise me. I have seen games where he touches the ball three or four times the whole game and then suddenly bursts into life, scoring two or three decisive goals.
Yet, on other occasions, I have seen him run and fight for his club and country only to finish a match empty-handed. To borrow a phrase from Forrest Gump, Zlatan is like a box of chocolates. You never know what you're going to get.
Many football fans will have branded the striker a villain following his latest exploit at the Mestalla Stadium. Many will say that once again he failed to deliver the goods in a key Champions League game - after all, he has only scored twice in this year's competition and missed eight clear-cut chances during the group stage.
I see that point, and I have criticized him in the past, but I choose instead to celebrate his genius and praise a player who I believe is still underrated in the world of football, a player who has created 14 chances for his teammates so far this season in Europe's top club competition.
Right now, if I was the manager of a top team and I was offered a chance to sign any striker in the world, I don't know if I would look past Zlatan. There are a couple of guys who would make me think twice – Manchester United's Robin Van Persie and Radamel Falcao of Atletico Madrid. Maybe even Napoli's Edinson Cavani. But that's it.
Even at 31 years of age, Ibrahimovic is so talented and so influential that you overlook him at your own peril. After all, this is a winner.
He won eight straight league titles with five different clubs in three different countries. He knows what it takes to get the job done and delivers time and time again.
I can hear some of you out there now saying, "well he has never won the Champions League."
It's true - he hasn't. But neither did Brazilian superstar Ronaldo and most fans around the world would agree that he is one of the best strikers to have ever laced a pair of boots.
So is he unpredictable? Yes. Volatile? Yes. Problematic? Yes. But he is also a genius on the pitch and above all a football hero. Trying to understand him is just a waste of time.