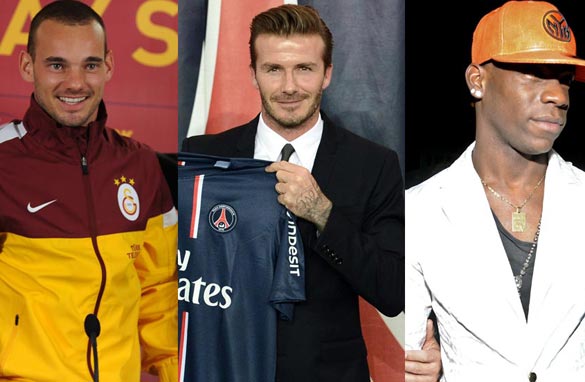 Wesley Sneijder, David Beckham and Mario Balotelli all feature in Pedro's picks.
The winter transfer window has now closed and there are various famous faces in different places. I have taken a look at a lot of the deals made and picked my top five. Do you agree? Let me know…
1. David Beckham to Paris Saint-Germain for free.
I know he is 37 years-old and I would agree with those who say he has been somewhat overrated at times during his career, but David Beckham is a great signing for PSG. The English midfielder brings a lot of experience and influence to the table and will become an important piece of the puzzle that Carlo Ancelotti is building in Paris.
Whether you think he is the most gifted player on the planet or not, one thing you cannot take away from Beckham is that he has won trophies everywhere he has been. Yes, his lifestyle off the field can be a little overwhelming, but he works his socks off every time he is on the pitch.
Will he play every minute of every game with PSG? Definitely not, but I expect him to play an important role in the team's season, especially in the Champions League. He could form quite a solid partnership with Thiago Motta or Blaise Matuidi in midfield, allowing the likes of Lucas Moura, Jeremy Menez and Ezequiel Lavezzi to do some major damage further upfield.
All in all, a shrewd piece of business from the new giants of Paris Saint-Germain. Getting Beckham for free is a great deal.
2. Wesley Sneijder to Galatasaray
He may be moody, he may be high maintenance, but Wesley Sneijder is one of the top creative midfielders on the planet. At the peak of his talents, the Dutchman can run a game with his passing and vision. He is a joy to watch on the ball and my only regret is he didn't join a higher profile league.
Galatasaray will pay a lot in wages, but the $12 million transfer fee is peanuts for a player of Sneijder's standing. If you take into account that the Turkish giants also got Didier Drogba, they could be a dark horse in the Champions League.
3. Demba Ba to Chelsea
There aren't that many pure finishers in the game right now so when a team gets one for less than $16 million, it is always going to be a good deal. The Senegalese striker has proven his credentials as a matador and is giving Chelsea a different dimension up front. The only question is will Rafael Benitez have the courage to drop Fernando Torres in favour of a player who cost less money and earns less money as well?
I see Ba as a real predator around the box and if given a chance he will bang in plenty of goals for the Blues. With such great creative players like Oscar, Juan Mata and Eden Hazard behind him, there will be no shortage of balls for the former Newcastle man to pounce on.
4. Daniel Sturridge to Liverpool FC
The deal was reportedly worth around $18 million and I think that is a bargain for a player with great potential and skill. I had watched him play various times for Chelsea and wondered why he wasn't given more chances at Stamford Bridge. Some fans in England have criticized Sturridge for showboating a bit too much, but in my book, if you have the skills, flaunt them!
The 23 year-old striker will form a great partnership with Luis Suarez and could help Liverpool finish in the top four. With someone like Phillippe Coutinho coming in to help create chances, Sturridge should have plenty of service up front. If he continues to play like he is right now, I expect him to be a regular England international by the end of the season.
5. Mario Balotelli to AC Milan
Is he problematic? Yes. Is he controversial? Yes. But Mario Balotelli is also incredibly talented and he deserves another chance. Even though Roberto Mancini tried his best to control Super Mario at Manchester City, I don't hink he ever succeeded. Balotelli never felt loved in the north of England and I don't think he ever got the guidance he needed to mature.
When I think about the 22 year-old striker, I think about the way in which he tore Germany's defence to shreds during Euro2012. I think about the way he terrorized Spain's defence during a group game in the same tournament. This guy has a lot of potential and all he needs is the right environment to blossom into a star. I hope for his sake that he gets the support and the nurture he requires to become a top player in the world of football.
Is over $30 million a lot to pay on someone as volatile as Mario? Maybe. But it could turn out to be one of the biggest bargains of the decade!