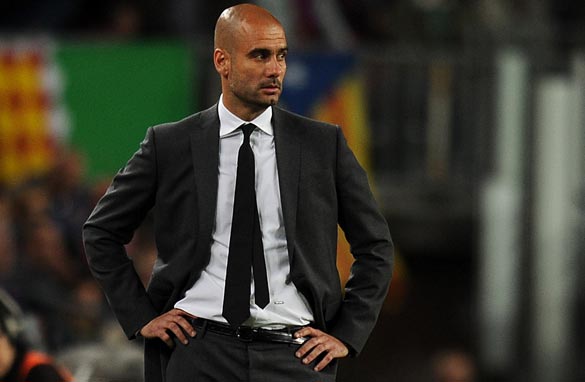 Guardiola oversaw a trophy-laden four years for Barcelona.
It was a surprise, but it made sense. That is how I can best describe my reaction to Pep Guardiola's decision to sign for Bayern Munich.
After months of speculation which linked him with the likes of Chelsea and Manchester City, the 42-year-old manager decided to turn his back on the bright lights of the English Premier League, opting instead, to ply his trade in the burgeoning German Bundesliga.
I genuinely thought Pep was heading to Manchester City. The English champions had recently hired two of his former colleagues at Barcelona, Ferran Soriano and Txiki Beguiristain, and in my mind Guardiola was next in line.
He would have had the complete backing of the owners, who would surely have given him the necessary funds to satisfy his needs both on and off the pitch.
You may be wondering why I have decided to ignore the fact Manchester City already have a high profile manager in Roberto Mancini. Well, quite simply I believe he won't be around next season.
The club had another disappointing campaign in the UEFA Champions League, I've heard he isn't very popular with the players, and considering he probably won't win the Premier League, his future looks bleak.
But let's shift the spotlight back over to Guardiola and his decision to move to Germany. It is my belief he picked Bayern because he considered his long term career rather than immediate notoriety, profile or finances.
Mentor Lillo: Pep will make Bayern's team better players and people
Pep could and would have made more money at Manchester City or Chelsea, but he didn't want his life to turn into a movie. He knows very well the kind of media scrutiny that managers are under in England and he wanted no part in it, at least not yet.
In his mind, by opting to work at Bayern, he can coach a big team, but still live in a healthy environment. Sure there will be pressure in Munich, but it can't compare with what he would face in England.
What we can't forget when assessing his decision is the Bundesliga is one of the best leagues in the world and it will continue to grow.
Stadiums are full, clubs are financially stable, and revenue is rising. There is also plenty of talent around with the new generation of German players showing their worth with the national team.
AVB: Bayern is 'perfect' for Pep
Finally, when trying to understand Guardiola, we must take into account about that he is a man who has never followed the beaten path.
When he was a player, after leaving Barcelona, he could have joined any one of several big clubs but, instead, he decided to sign for Brescia. Why? Because there was less pressure, less fanfare, and also because he had a chance to play with Roberto Baggio and a young Andrea Pirlo.
So if you take all factors into account, the thought process which led to Guardiola's move to Bayern makes sense. He joins a huge club with a healthy philosophy that is built to win and win now.