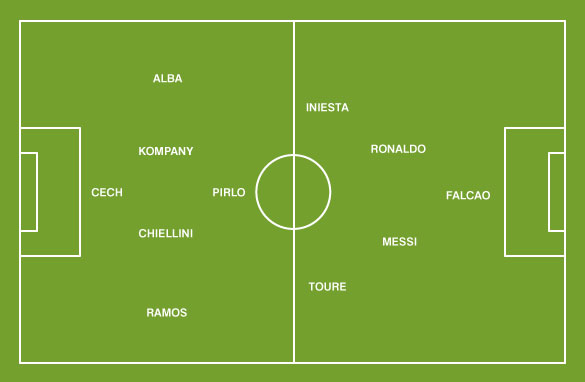 Do you agree with Pedro Pinto's selections for a 2012 fantasy football team? (CNN/Inez Torre)
As the end of 2012 draws near, it's time to look back on the players who dominated world football this year.
These are my picks for a fantasy XI that would conquer all, but I also want to know your dream team. Is there anyone you think deserves a place in this line-up?
Have your say in the comments box below.
Goalkeeper:
Petr Cech - The Czech enjoyed a fantastic 2011-12 season at Chelsea. He was decisive during the Blues' historic European Champions League campaign, especially against Barcelona and Bayern Munich. What he managed to do in the final in Munich was incredible, saving a potentially game-winning penalty in extra-time and then coming up with a few more stops in the shootout.
Defenders:
Jordi Alba - One of the revelations of the past year for club and country. After a stellar season with Valencia, Jordi earned a big-money move to Barcelona and then showed everyone why the Catalans splashed the cash with a string of virtuoso displays at Euro 2012. A versatile left back who is equally adept defending and attacking.
Vincent Kompany - The Belgium international was a rock at the center of Manchester City's defense during the English club's Premier League-winning season. If other players around him wavered, Kompany could always be counted on to be at the right place at the right time. He was a beast in defense and also found the time to score some crucial goals, including the winner in a decisive derby against Manchester United.
Giorgio Chiellini - I have always been a big fan of the big Italian center back, and he was at his best this past year. With Juventus, he was immaculate, very much the leader of a backline which became one of the best in Europe. Then at Euro 2012 he again showed his worth with a few phenomenal performances. He is rough, tough and a nightmare for most strikers to deal with.
Sergio Ramos - One of the most underrated defenders in the world, but crucial for Real Madrid and Spain. Ramos is strong in the air but it is on the ground where he does most of the damage, whether it is sliding into crucial tackles or pushing forward with the ball at his feet.
Midfielders:
Yaya Toure - Forget Sergio Aguero, Manchester City would never have been in a position to win the Premier League title without Toure. He was immense last season for the English champions. We already knew Yaya could defend, but the way in which he drove his team forward at key points during the year was fantastic. He also helped Ivory Coast make the final of the African Cup of Nations, and has been named the continent's best player for the second year in a row.
Andrea Pirlo - Just like fine Italian wine, Andrea gets better with age. He inspired Juventus to their first league title in almost a decade in his first season in Turin, and then led Italy to the final of Euro 2012 with a series of scintillating displays. Pirlo may be on the wrong side of 30, but he is at the top of his game and can set the pace and tone of a game with ease.
Andres Iniesta - I have never been Iniesta's biggest fan. I always believed the midfielder needed Xavi to be at his best in order to shine both for Barcelona and Spain. However, at Euro 2012 he was by far his side's best player, dazzling us with his skill and vision both in the center of the park and on the wing. Andres became a world-class superstar this past year both with club and country.
Forwards:
Lionel Messi - Are there any adjectives and superlatives left to describe little Leo? His scoring record practically speaks for itself: 91 goals in 2012 is just an absurd number, isn't it? Messi is unstoppable and we should feel privileged to be watching a player who may be the best of all time. His next mission? To lead Argentina to the World Cup title in Brazil in 2014.
Cristiano Ronaldo - He can score goals with every part of his body at any time. Cristiano is probably the most complete player out there and he delivers the goods week in and week out. Even if he must improve his attitude, there is no questioning his skill, and the Portugal international is a joy to watch. Ronaldo was simply superb in Real Madrid's La Liga title-winning run and also led his nation to the semifinal of Euro2012 nearly singlehandedly.
Falcao - The best finisher on the planet. This man is what we call a true Matador. If there is a loose ball anywhere in the area, chances are he will get to it faster than anyone else and smash it into the back of the net. Radamel has the whole package necessary to be a lethal striker – speed, acceleration, positioning and killer instinct. The Colombian should stay at Atletico Madrid in the January transfer window but expect him to make a big-money move next European summer.