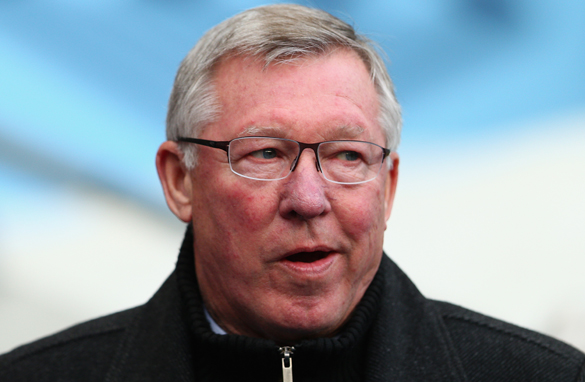 Manchester United manager Alex Ferguson was furious with Ashley Williams for kicking the ball at Robin van Persie's head.
Alex Ferguson is a master of the post-match interview, but you have to wonder if he has maybe overstepped the mark this time.
The veteran Manchester United manager furiously demanded that the English football authorities take action after his star striker Robin van Persie was hit on the head by a fiercely struck ball when he was lying prone on the pitch during Sunday's 1-1 draw with Swansea.
"He could have been killed," raged the Scot in an interview with British match broadcaster Sky Sports.
The subject of Fergie's ire, Swansea's Welsh defender Ashley Williams, was booked by the referee along with Van Persie after the Dutchman leapt angrily from the ground to confront his alleged attacker.
Ferguson called for Williams to be banned "for a long time" after committing "the most dangerous thing I've seen on a football field for many years."
This accusation, from a man both feared and respected by journalists around the world, went unquestioned at the time – but Swansea's kit man wasn't having any of it.
Michael Eames took to Twitter after the match and pointed out that Ferguson – who famously hit his own player David Beckham in the face with a boot – should not be throwing stones from inside a glass house.
"Ferguson v Beckham (just a bruise) Cantona v fan (slight overreaction) Keane v Haaland (innocent mistake) Williams v RvP (attempted murder)" he wrote.
Eric Cantona, one of Ferguson's most influential signings, was banned for nine months for launching a flying karate kick at a Crystal Palace fan after being sent off during a match in 1995.
Then there's former United captain Roy Keane, who admitted that he purposefully tried to injure Manchester City opponent Alf-Inge Haaland in a match in 2001 as retaliation for comments the Norwegian made about him almost four years previously.
Williams insists that he did not intend to strike the ball at Van Persie's head, that he was just kicking the ball away in frustration. Because the referee's whistle had already blown, that in itself was a bookable offense.
United striker Wayne Rooney also played down the incident.
"I think it's one of those things," he said. "The whistle's gone, the defender has gone to clear and it's hit him in the head. I think probably the right decision from the referee."
Williams has copped abuse from angry United fans on Twitter – as has one woman in the U.S. who shares his name.
Ashley Williams, a lawyer who lives in Springfield, Missouri, went to the trouble of posting a split picture of their two faces.
"Yes, the resemblance is uncanny, really," she wrote.
The incident has already split opinion among CNN readers.
"I think Ferguson's actions were right …If the ball wasn't there, he could have probably ended in the hospital!" wrote Eucamon.
Mark Milligan responded: "VP is a drama queen and so is Fergie."
What do you think? Was Ferguson's reaction justified? Or was he just trying to deflect attention from a disappointing result that meant his team was left with a four-point league lead rather than six?
One of Ferguson's Premier League colleagues believes that the matter will blow over.
"He genuinely felt that, I should think, at the time. You do. If one of your players gets hurt or you think he was in danger, you are going to protect him," said Alan Pardew, whose Newcastle team travel to United's Old Trafford on Wednesday.
"I think the one with Van Persie was perhaps not as bad as Alex at first imagined. Sometimes from the sideline, it looks a lot worse at the time."