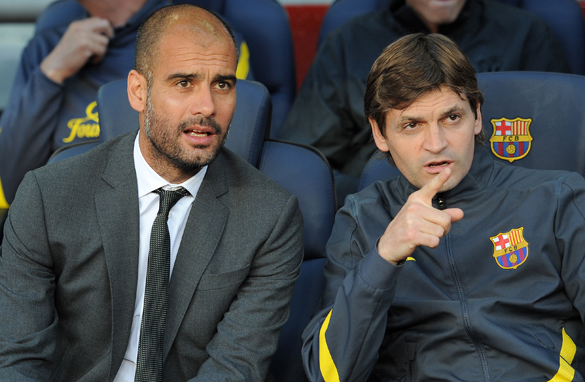 Pep Guardiola, left, has been linked with a return to Barcelona after a health scare for his successor Tito Vilanova.
On Wednesday the football world was saddened by news that Barcelona manager Tito Vilanova suffered a relapse of a cancerous tumor which had been removed last year. He was due to have surgery on Thursday and is facing chemotherapy and radiotherapy treatment for the next six weeks. I hope he makes a speedy recovery and returns to the Barca bench as soon possible.
The question now is, what happens to Barcelona? They had set a new club record by winning 15 and drawing one of their opening 16 league games. But what now? Can they keep their run going and continue to dominate Spanish football? And what about the European Champions League?
As far as their next game is concerned, assistant Jordi Roura will take over for Saturday's clash with Valladolid. After that we will have to wait and see. Doctors did say that the 44-year-old Vilanova could continue to work while he receives treatment.
Messi agrees new Barcelona deal
What I expect will happen is Vilanova's technical staff will take care of most of the training, with Tito coming in to take charge of the team right before games take place. Obviously this will disrupt the day-to-day flow at the club, but in my opinion it shouldn't disrupt the players' performances on the field.
What we need to realize is that Barcelona is about more than just one manager. There is a football philosophy in place at the Camp Nou which has been instilled into all players and coaches ever since they joined the club and is present at all times.
Right now, the starting XI is comprised mostly of players who grew up at the club's famed La Masia academy, so even if Tito isn't there, they know what to do. It would be an exaggeration to say that the team plays on autopilot, but it's not far from the truth. And when you have Leo Messi and his goals, you really don't have to worry about too much.
Is Vilanova coach of the year?
What about Pep Guardiola? A lot of people have been speculating about his return to the club, but unless there is a major crisis in the new year I really don't see that happening. He is on a sabbatical and, although he could visit Tito and the club a few times to raise morale, I don't see Pep wanting take over in the dugout at this time.
So my message to Barcelona fans is – don't worry. You should not be concerned about your short-term future. The Blaugrana will win with or without Tito, and considering the league is pretty much wrapped up, I don't see any major storms on the horizon.
As far as the Champions League is concerned, the competition will not resume until February and by then Tito will have finished his therapy. Hopefully he will be sitting on the Barca bench when the Round of 16 kicks off with a knockout tie against Italian club AC Milan.