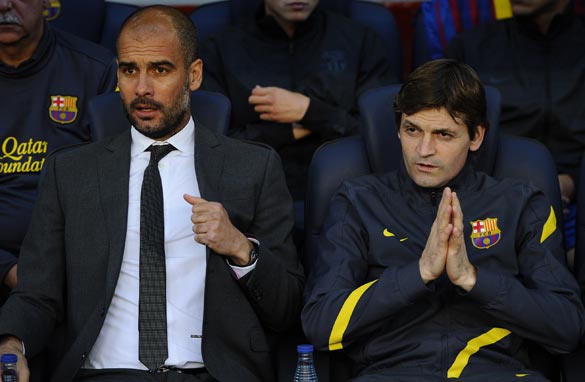 Master and the apprentice: Vilanova assumed Guardiola's mantle in June. (Getty Images)
Amid all the hyperbole that surrounded Lionel Messi's record breaking achievements in surpassing Gerd Muller's 40-year-old landmark for the most goals in a calendar year, one man has been seemingly forgotten - Barcelona coach Tito Vilanova.
Which is probably just the way Vilanova likes it.
When he took over from Pep Guardiola in June after his former boss decided to take a sabbatical from the game, Vilanova looked like he was on a hiding to nothing. In much the same way that Bob Paisley must have felt when he took over from legendary Liverpool coach Bill Shankly.
Over four years Guardiola - with Vilanova as his assistant - had won 14 trophies as Barcelona steamrollered the opposition both at home and abroad.
From the anonymity of the Barca boot room, suddenly all the pressure was on a 43-year-old man who had arguably only once come to the attention of the world's media after being poked in the eye by Real Madrid coach Jose Mourinho during a Spanish SuperCup game in 2011. FULL POST