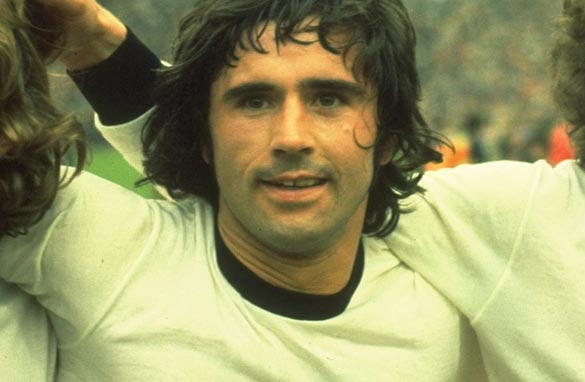 Gerd Muller's record of 85 goals in a calendar year has stood since 1972. (Getty Images)
When Lionel Messi collided with Benfica goalkeeper Artur on Wednesday, the football world held its breath.
Introduced as a late substitute in the European Champions League tie, the Barcelona star left the field on a stretcher. Fans across the globe wondered if fate had put paid to Messi's attempt to score the most goals in a calendar year.
The Catalan club later announced Messi, who has netted 84 goals for club and country in 2012, had bruised his left knee and, while he may miss Sunday's match with Real Betis, he should be back to full fitness shortly.
After the Betis match, Barcelona have just two more league matches this year – at home to Atletico Madrid and away to Real Valladolid.
The assessment of his knee injury was good news for Messi, but bad news for Gerd Muller. Messi is chasing the German's world record of 85 goals in a year, which has stood for four decades.
Muller began his Bayern Munich career with the team outside of the German top flight and ended it as a three-time European Cup winner following a golden age for the club. The unassuming goalscorer was a world champion with Germany in 1974 and also a Euro 1972 winner.
The fearsome striker, nicknamed "Der Bomber", played in a Germany team led by fellow Bayern great Franz "Der Kaiser" Beckenbauer, nicknames that hint at a society still affected by two World Wars.
Muller and Beckenbauer helped usher in a bright new dawn for Bayern and an unprecedented level of dominance.
The Bavarians won three successive German titles between 1972 and 1974 and were crowned champions of Europe in 1974, 1975 and 1976, with Muller's goals the ammunition used to gun down opponents.
"When I was a youngster and wasn't sure what to do with the ball, I looked to get it to Gerd and he always managed to do something with it," Muller's former teammate and current Bayern president Uli Hoeness recently told the club's official website.
Muller scored 68 times in 62 matches for Germany, including the winner which secured his country the 1974 World Cup final against the Netherlands.
For Bayern, he notched scored 365 goals in 427 Bundesliga fixtures - including 42 league goals in that landmark year.
It is an extraordinary goalscoring record, even more so given the back pass rule was not in operation, the offside rule had yet to be amended, while referees arguably offered players less protection than they receive nowadays.
While Messi has amassed his total largely thanks to slalom runs finished with chips and flicks, Muller plundered his tally as a poacher who operated inside the penalty box and finished with clinical precision.
"You can't learn it," said Muller as he analysed the art of the striker. "You've got to have an instinct for it. You've got to be able to react quickly and shoot with both feet."
Although different in playing style, to the casual observer Messi and Muller have more than immense talent in common.
Messi, who seems to reluctantly occupy the limelight, has been typically low key when asked about the record. Similarly CNN was informed by Bayern that Muller had decided a long time ago not to do any media work.
"As I keep on saying, the record is not an obsession for me," Messi told a press conference. "I've heard my teammates saying they are going to help me beat the record, but all of the goals I've scored are down to their help.
"I'm not worried about it. It would be very nice to do it because I am so close. If I do it I hope I can hold onto the record for as long as Muller but it doesn't worry me.
"If I can do it, great, if I can't it's no big deal. But now I am so close I'm going to go for it."
By contrast, Muller's refusal to embrace celebrity could perhaps be explained by personal demons.
In the early 1990s, after his playing career had come to an end with a spell in the now-defunct North American Soccer League, he battled to overcome alcohol problems.
Rather than pursuing a career within football's corridors of power like so many of his contemporaries, Muller works as an assistant coach for Bayern's second team - which finished 12th in the German fourth tier last season.
Unspectacular surroundings for someone named by FIFA as the greatest goalscorer of all time in 2000, but probably just the way Muller likes it.
"Gerd can work for as long as he wants," said Hoeness. "He doesn't need a contract. As long as he wants to come to the training ground then he can work for us."
And you suspect that just as there will be no whooping and hollering from Messi if he successfully overhauls Muller's 1972 tally, there won't be any tears shed by the man who has silently stood unrivalled for 40 years.