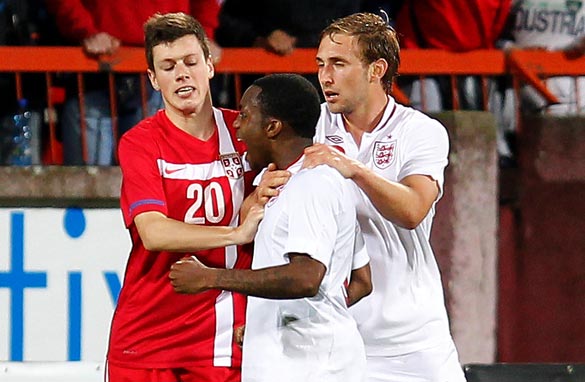 England under-21 midfielder Danny Rose claimed he was racially abused by Serbian fans in October. (Getty Images)
When UEFA president Michel Platini declared any footballer who left the pitch as a result of racial abuse would be yellow carded, he set a dangerous precedent.
Platini, head of European football's governing body and speaking ahead of June's Euro 2012 tournament, was placing the emphasis on soccer's referees to tackle an issue which has plagued the sport over the last 12 months.
The Frenchman declared match officials had the authority to halt a match and they would decide when discriminatory chants or behavior had reached unacceptable levels.
However, despite racist abuse being reported at matches during the tournament in Poland and Ukraine, no match was abandoned.
Likewise monkey chanting, Hitler salutes and anti-Semitic abuse have been reported at a number of matches in the intervening five months, but no referee has brought a match to a premature close.
Sunday's English Premier League match between Tottenham and West Ham United was the latest in a litany of racial abuse scandals which have plagued soccer over the last 12 months.
"We'd like to see a proactive stance on this," chairman of the Association of Black Lawyers Peter Herbert told CNN. "A vigorous approach, prosecute where possible, ban people from grounds and if incidents like that do happen, call a halt to the game.
"There is a UEFA rule which is never used where a referee can call off the game. That's the sort of initiative which has to happen.
"Do you want to watch a football game or do you want to listen to this abuse?"
So why has no referee ordered players off the pitch? And why are football's lawmakers not taking a tougher stance against racism?
Italian team Lazio were last month fined $52,000 after their fans chanted racial abuse at Tottenham players, while the Croatian FA was hit with a $103,000 sanction after their supporters abused Italian striker Mario Balotelli at Euro 2012.
But both those punishments were less than the £126,000 fine handed to Denmark's Nicklas Bendtner for displaying a bookmaker's name on his underwear in a guerrilla marketing stunt.
Increasing fines might encourage national associations to take a greater interest in the conduct of their own fans, but would it tackle the root of the problem?
Surely the long-term solution lies in educating fans, though changing outdated attitudes takes time, so a more immediate deterrent is also required.
Life-time bans like the one swiftly issued by West Ham to a season-ticket holder involved in Sunday's events are a start.
If discriminatory offences persist, the docking of points and the banning of teams is the only way to make an impact.
Perhaps this is unfair, punishing a football club and the majority of its fans for the acts of a mindless minority.
But the minority, despite being rightly distanced from those whose behavior at football matches is exemplary, are still football fans.
They are emotionally invested in the fortunes of their football club.
In this instance, a points deduction for West Ham might be the only way to make these fans realize the gravity of their offensive chants.
Only when these fans realise their actions are hurting their own club will discriminatory abuse cease.