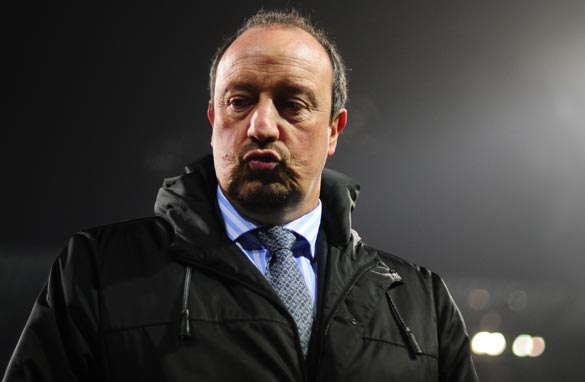 Rafael Benitez has the chance to rebuild his reputation at Chelsea. (Getty Images)
Why Rafael Benitez? A question asked by many upon learning Liverpool's former manager would replace the axed Roberto Di Matteo as interim Chelsea manager.
But when the Spaniard's haul of titles across Europe is examined it begs the question, why not? And when a list of viable and available candidates is also surveyed, who else?
Chelsea's Russian owner Roman Abramovich may dream of luring Josep Guardiola, the architect of Barcelona's recent dominance of European football, to Stamford Bridge, but the Catalan is intent on completing his year-long soccer sabbatical.
Two more potential Chelsea targets are already firmly entrenched in other jobs. Despite the stated intention of Real Madrid's Jose Mourinho, the most successful manager in Chelsea's history, to return to the Premier League he is unlikely to leave the Bernabeu any time soon.
It is a similar story with Borussia Dortmund's Jurgen Klopp. The German coach's young side are blazing a trail through the Champions League and he must surely have reservations about working for the notoriously trigger-happy Abramovich.
Just as the Russian did when he fired Andre Villas-Boas in March, Abramovich now finds himself shopping in the sales, trying to find the best fit to provide a short-term fix.
And in the bargain basement who is better than Benitez?
True, his stock has fallen considerably since he masterminded Liverpool's incredible, implausible Champions League triumph against AC Milan in 2005.
Despite having league titles and European successes on his CV, he has failed to establish himself at another club since being ousted by the Anfield board in 2010.
A disastrous spell as Jose Mourinho's successor at Inter Milan followed immediately after his Liverpool exit. It ended abruptly in December 2010, just six months after he stepped through the door at the San Siro.
The intervening two years have seen Benitez linked with a host of jobs across the continent, but none came to pass - until now.
Eight years have elapsed since Benitez guided Valencia to their second Spanish league title in just three seasons.
Benitez's Valencia, who also won the UEFA Cup in 2004, remain the only the team this century to have broken Real Madrid and Barcelona's stranglehold on the Spanish league title.
Though his departure from Valencia - ""I asked for a table and they bought me a lampshade" – did signal his unnerving ability to fall out with the board members he worked under at the various clubs he has coached.
The following season he led an unspectacular Liverpool team to the ultimate European triumph, overcoming Mourinho's Chelsea at the semifinal stage.
While Di Matteo was roundly condemned for his strategy during Tuesday's 3-0 defeat to Juventus - which leaves Chelsea facing the prospect of becoming the first Champions League winners to exit at the group stage of the next tournament - Benitez has repeatedly proved himself capable of sending out teams to achieve results on the big stage.
His half-time decision to introduce defensive midfielder Dietmar Hamann in that Istanbul final against AC Milan proved a masterstroke.
The German nullified the previously rampageous Kaka and Liverpool overturned a three-goal deficit before winning a nerve-wrenching penalty shootout.
As he said of Liverpool's unlikely European exploits: "The management of 180 minutes, the tactical preparation needed to overcome opponents expected to beat us."
Benitez will also be working with a Chelsea squad which is the envy of most clubs in the world.
Brazilian playmaker Oscar, the effervescent Eden Hazard and the sublime Juan Mata are among the game's top talents, while Benitez will hope he can return Fernando Torres to the scoring form he enjoyed under his tutelage at Liverpool.
And Torres' exploits between now and the end of the season could decide both his and his new manager's fate.
If Benitez, whose faith in Torres helped him become one the world's most feared strikers, can't bring the best out of the world and European champion, would Abramovich finally cut his losses where the Spanish striker is concerned?
It will take more than former glories and tactical nous to convince a Chelsea fanbase angered by the treatment of Di Matteo and disappointed with another short-term appointment.
The vast majority of Stamford Bridge's faithful remember Benitez as the man who led Liverpool during three ill-tempered Champions League semifinals between the teams in 2005, 2007 and 2008.
And it is not just Chelsea's fans who will need reminding of Benitez's worth. During his spell with Liverpool he endured a fraught relationship with the English media.
Benitez's defensive attitude was epitomized by one press conference in January 2009 when he unleashed a list of "facts" which he claimed proved the fixture list favored Alex Ferguson's Manchester United.
The "Spanish waiter" tag which many surrounding the English game have cruelly attached to Benitez will take some removing.
But while this may represent his last chance in one of Europe's top jobs, risking criticism and vitriol, the situation for Benitez is win-win.
A future with Chelsea seems unlikely, with Guardiola casting a long shadow from his Stateside holiday home. This would seem to rule out the possibility of Benitez strengthening his new squad in January.
But at worst, it is a short-term experiment guaranteed to swell his bank balance.
At best, it offers Benitez's the chance to show prospective employers why he once ruled European football.
And what better way to start than with a win over Premier League leaders Manchester City on Sunday?