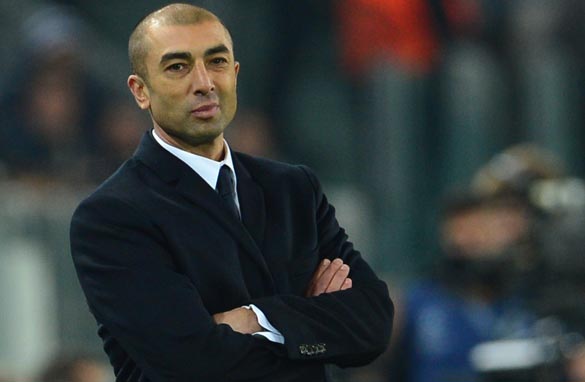 Roberto di Matteo first took over from Andre-Villas Boas in March. (Getty Images)
So here we go again. Another manager bites the dust at Stamford Bridge. Even considering Roman Abramovich's record when it comes to sacking managers, I have to say I was very surprised he dropped the axe on Roberto Di Matteo.
I am aware of the numbers: two wins in eight games. I am also aware that Chelsea are close to becoming the first European Champions League winner to be knocked out in the group stages of the competition the next season.
However, I am not convinced changing managers at this point in the season is going to accomplish much, especially when whoever comes in will only have until the end of the season to work with these players.
Di Matteo is the eighth manager to leave the post of Chelsea manager since Abramovich took over back in 2003, so it's no secret that patience is not a virtue the Blues owner possesses.
But even so, why sack a guy who won the Champions League six months ago and enjoyed so much success, when you clearly don't have a plan B?
So let's look at what went wrong at Chelsea and how much blame Di Matteo should take.
I would like to start by taking a look at the depth of their squad, or should I say lack of it. First of all, I question the decision to sign not one, not two, but three attacking midfielders who all play similar positions.
A lot of money was spent bringing in Eden Hazard, Oscar and Marko Marin when Chelsea already had Juan Mata on their books. I am not questioning the quality of these players, but the quantity.
Even Victor Moses could be considered an attacking midfielder, so what was the club thinking? And whose decision was that? If it was Di Matteo, then he deserves the blame but if he didn't pull the trigger, then the finger should be pointed elsewhere.
While the club splashed the cash on attacking players, they forgot to sign a back-up striker.
We all know Abramovich wanted Fernando Torres to play as much as possible after splashing out $80 million on him last year, but still there should have been a plan B.
Especially if you consider Daniel Sturridge was apparently not an option for Di Matteo.
Another big mistake made by Chelsea was not investing in a quality defensive midfielder. If they were going to line up with Mata, Hazard, Oscar and Torres, they needed to have at least one ball-winner in the centre of the park.
Is Jon Obi Mikel that guy? No. Is Ramires that guy? No. In my view it was too easy to run past Chelsea's midfield and that was a reason for their struggles.
Last but not least injuries and suspensions played a part. Whether you like it or not, John Terry and Frank Lampard are still the heart and soul of Chelsea, and both of them have missed several games this season.
There is one major error Di Matteo made and it sealed his fate. Against Juventus, he dropped Torres and played a 5-4-1 formation.
I am sure if he had a chance to take that back, he would. Even if he wanted to play for a draw, he shouldn't have changed his system in such a big game and dropped the only pure striker he had. That was a big no-no.
So the Juventus game aside, how much is Di Matteo really to blame for Chelsea's failings? It's difficult to tell.
He certainly couldn't have helped the suspensions and injuries and he might not have been in charge of signings at the club.
One thing is certain. Whoever replaces the Italian coach has a tough task ahead. Whatever he does and whatever he wins, his job will never ever be safe.