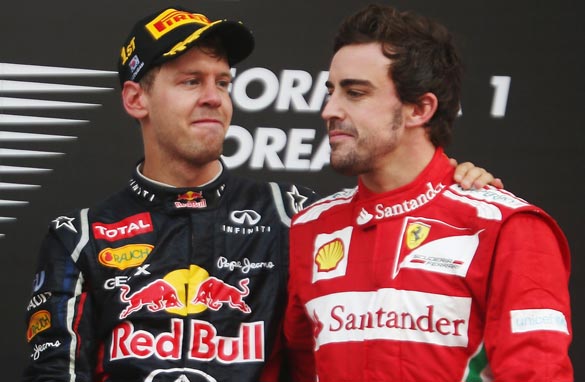 Sebastian Vettel (left) or Fernando Alonso (right) will join an elite band of drivers. (Getty Images)
The 2012 Formula One season may yet have delivered the new drivers' champion, but even before the world's fastest racing cars finish their cylinder-driven samba around the Interlagos Circuit in Sao Paulo next week we can be certain of one fact ... the new champion will be crowned an all-time great along with this year's best.
Both Germany's Sebastian Vettel and Fernando Alonso of Spain are used to superlatives from motor racing commentators: they are both exceptionally talented and boast back-to-back double-champion pedigree.
And as the two sole pilots left in the hunt to finish top of this year's grid, they also both stand on the edge of joining an elite members' club.
Since the sport's birth in 1950 few have managed to win three world titles; those who did scale these heights are now legends.
Michael Schumacher (seven world titles), Juan Manuel Fangio (five), Alain Prost (four), Niki Lauda (three), Nelson Piquet (three), Ayrton Senna (three), Jack Brabham (three) and Jackie Stewart (three) are all giants on whose shoulders the modern sport now stands.
Notice also, by the way, this list excludes such notables as Stirling Moss, Damon Hill, Emerson Fittipaldi, Alberto Ascari or Mario Andretti; drivers who - among others - possessed scintillating skill, charisma and speed but were without the car, consistency or fortune to enter the pantheon set aside for the privileged few.
With all to play for ahead of Brazil's finale from the favelas - only 13 points separate championship leader Vettel from Alonso in second, with 25 points available to the winner of the last race - the thought of attaining such an historic triumph must be driving (literally) every competitive sinew the two rivals possess.
Whoever wins, there are few who could argue they would not deserve such accolade. The biggest criticism which could be leveled at Vettel is he has benefitted from driving a Red Bull car far superior to any in the other garages of the pit lane.
In Adrian Newey, Red Bull have a genius of design who has produced a reliable, innovative and super quick package time and time again. But to think that a fast car alone is enough to deliver three titles would be small-minded.
Just ask Mark Webber - who has raced the same car as Vettel to exactly no world titles in three years - or Senna and Prost, who dueled for their championships using the same McLaren car. It takes something extra to be called "number one".
Whether nailing qualifying to clinch pole by hundredths of a second, as in Bahrain, or driving against the odds from pits to podium to pick up improbable points in Abu Dhabi, or withstanding the mental pressures of leading from the front to leave opponents trailing in his wake (two years in a row in India), Vettel delivers when performance is most needed.
If Alonso were to win it would definitely turn the tables on those who argue F1 is merely down to engineering prowess over driver skill.
Even Ferrari's most ardent fans would admit the "Prancing Horse" was more of a stub-nosed dog at the start of the season, and in a year when Red Bull have again wrapped up the constructors' championship, the Maranello man has arguably performed better than any other driver given the machine at his disposal.
Alonso's against-the-odds points grab this season has been nothing short of remarkable: in Malaysia he drove from 8th on the grid to victory, in Valencia it was from 11th he dragged the Ferrari to a win before securing a memorable 3rd place finish in Monza from a starting place of 10th.
In terms of return, 12 podium places from 19 races is worthy of a separate award for collecting champagne jeroboams.
It also has to be considered that this year's champion would have won by beating a record number of rival world champions to the prize. Could that be said of Schumacher or Prost in their pomp? Whatever the outcome in Brazil the F1 world will celebrate a new triple-champion, the question then will be - given the age of both concerned - whether they can challenge to be the greatest F1 driver in history.