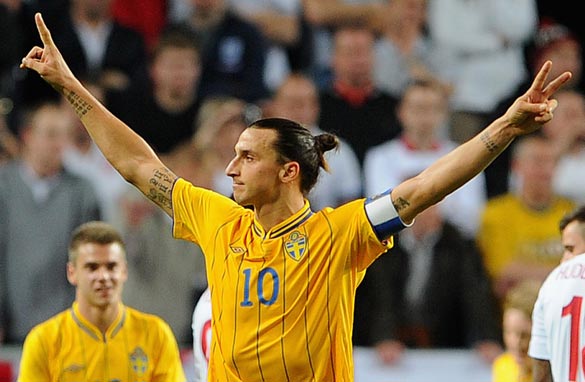 Underachiever or genius? What do you make of the mercurial Zlatan Ibrahimovic? (Getty Images)
Wow. WOW. Wow.
That word was on repeat in my head as I watched Zlatan Ibrahimovic's spectacular bicycle kick sail past Joe Hart on Wednesday.
That goal against England in Stockholm epitomized everything the Swedish striker stands for. It was audacious, outrageous and even a bit cheeky to boot.
I won't enter into debate on whether it was the best goal of all time, because I definitely don't think it was, what I will discuss is Zlatan's standing in the game and his legacy.
I will admit when I have watched the striker in person, I have often become infuriated with his lack of commitment and work ethic. Sometimes it seems as if he quite simply does not care.
He walks around, and stands around, a lot. Detractors also point to his less than spectacular goal-scoring record in the Champions League. He has scored 33 goals in 99 games, a rate of one in three, a lot worse than he has done in league play for his various clubs and for his country.
So who is the real Zlatan? Is it the guy who comes up with incredible goals every once in a while but struggles to produce the goods on the big occasions? Or is he simply a misunderstood genius?
The truth may be somewhere in the middle but, if forced to fall down on one side of the fence, I would go for the latter.
You can criticize him all you want, but his silverware haul has been amazing throughout his career.
This guy has won titles in Sweden, Holland, Italy (with three clubs, thought his two Serie A triumphs with Juventus were later revoked) and Spain. And he is well on his way to adding the French league title with Paris Saint-Germain.
I say, when it comes to Ibrahimovic, you know you have to take the good with the bad. He is one of those special players you have to make concessions for, much like Diego Maradona, Romario or Hristo Stoichkov.
Don't expect him to defend and don't expect him to think of the team ahead of himself, one reason why I don't think he would ever succeed in England. Fans just wouldn't understand him. They would want to see some huffing and puffing, and those words just don't mix with "Ibracadabra".
So where does he rank on the list of world's top footballers? It's a tough question, but if you take the best of Zlatan, he is definitely in the top five, maybe even in the top three. His skill on the ball is second to none and he consistently scores goals out of nothing. What do you think?
If there is one certainty about Ibrahimovic, it is that his legacy will forever be tainted by his attitude.
Long after he retires people will still be talking about how good he really could have been if he tried harder. But then again, that just wouldn't be Zlatan, would it?