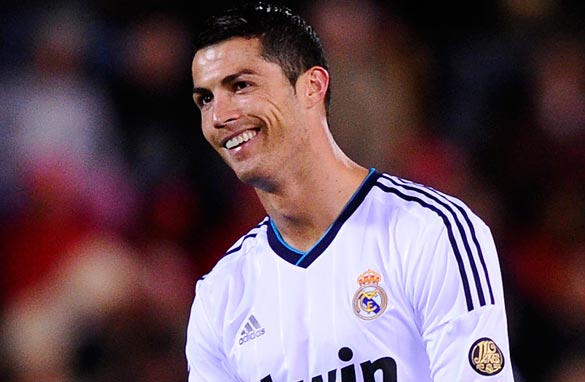 Should the free-scoring Cristiano Ronaldo smile more often? (Getty Images)
I hear it all the time.
"Cristiano Ronaldo is a great player, it's a shame he is so arrogant."
Yes, the 27 year-old Portuguese superstar has an image problem. His serious, distant and sometimes petulant behavior on the field of play means many, if not most fans, have quite a negative impression of him.
So who is the real Cristiano? Well, I have known him for nearly a decade and I can tell you he is nothing like that.
Just last week I spent some quality time with the Real Madrid winger at one of his friends' houses in the Spanish capital and he was as sweet as ever.
Every single time I have been around him he has been the same. The fame, the money, the success, they have not changed him.
Obviously he is completely different around his friends than he is on the pitch, and I think that is quite reasonable. While he is working he has the responsibility of performing because, like he told me once again, he hates to lose. He wants to win every single match, whether it is against Barcelona or Rayo Vallecano.
As much as I see his point of view, and I understand the way he feels, I am the first to admit that he has to change his ways.
At 27, he has reached a key moment in his career where he runs the risk of seeing his image taint his legacy. I told him that last week and the people who work closely with "CR7" need to tell him the same.
If I had the chance to work with him, I would tell him the following:
• Smile. You are talented, successful and good looking. You are living the dream. It doesn't help when you look so serious all the time. It seems like you are carrying the weight of the world on your shoulders. I am not asking you to be like Ronaldinho Gaucho, but you should relax and look like you are having fun out there.
• Celebrate your goals with more enthusiasm. I know you score LOTS of them, but it doesn't help your image when you act as if they don't matter. And you should drop the "calma, calma" celebration. It worked well for the game last season against Barcelona, but it's time to move on.
• Be yourself when cameras are around. Don't think you need to act a certain way because you are in the spotlight. You are a funny guy, let that come out naturally.
These three simple changes would go a long way to changing people's perception of Ronaldo, don't you think? And the great thing is he can achieve them by just being himself.
If nothing is done, and if the same trend continues, there is no doubt people will continue to say Cristiano is a great player, but not such a great person.
And that means his legacy, as well as his hopes of beating Barcelona's Lionel Messi in the duo's annual battle for the Ballon d'Or, will suffer.