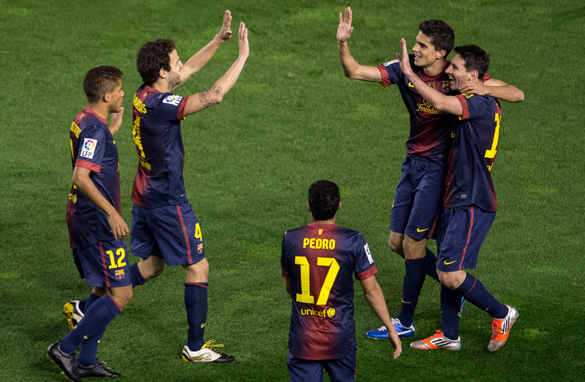 Lionel Messi celebrates with his Barcelona teammates after scoring his 300th career goal on Saturday. (Getty Images)
When Lionel Messi declared this week, at the relatively young age of 25, that he wants to spend the rest of his career at Barcelona, it provided an insight  as to why the Spanish club has dominated world football in recent years.
A hot favorite to be named the world's best player for an unprecedented fourth time in January, Messi has already won every title that Barca have competed for - surely at some stage you'd think he'd like a new challenge?
Compare his stance to that of his biggest rival Cristiano Ronaldo, whose future at Real Madrid seems constantly under speculation - not least because of the Portugal star's comments earlier this season that he felt "sad" at the Bernabeu. The latest rumor is that he and his manager Jose Mourinho will join big-spending French club Paris Saint-Germain.
Messi has the football world at his feet, but he is happy to remain at a club where he moved from Argentina as a boy blessed with undoubted talent - but held back by a slight body that required growth hormone treatment if he was to make the grade.
He is not the only player so committed to the Nou Camp. The club's famed La Masia academy has produced a conveyor belt of talent that has helped win three Champions League crowns in the last six years, plus four Spanish titles.
Victor Valdes, Carles Puyol, Xavi and Andres Iniesta were either in the starting XI or among the substitutes on each occasion for the European triumphs of 2006, 2009 and 2011, while Messi, Gerard Pique, Pedro and Bojan Krkic (now of AC Milan) featured in the latter two.
Add to that octet the 24-year-old Sergio Busquets - who like Xavi, Iniesta, Pique and Valdes was in Spain's victorious 2010 World Cup and 2012 European Championship squads - plus a new generation of La Masia graduates and you have a core of homegrown talent throughout the squad.
With such conviction from their star player Messi and such continuity in personnel, it begs the question - is loyalty the most potent weapon in Barca's considerable arsenal?
The list of nominations for the 2012 Ballon d'Or suggests the answer is yes. Messi, Iniesta, Xavi, Piquet and Busquets are all in the 23-man shortlist. 
Consistency has even been maintained in the dugout, with former assistant Tito Vilanova taking over when all-conquering coach Josep Guardiola ended his trophy-laden four-year reign at the end of last season.
Its a club where loyalty swings both ways - many coaching and administrative appointments are made from within the Barca family. Guardiola joined as a 12-year-old and spent more than a decade there as a senior player before finally moving overseas.
The familiarity which exists between the squad could also go some way to explaining why some big-name recruits have struggled to settle at Barca.
Samuel Eto'o may have scored for Barca in the 2006 and 2009 Champions League finals but, despite his undoubted talent, Guardiola was eager to ship out the reputedly disruptive Cameroonian, which he did in a swap deal with Inter Milan in 2009.
In exchange for Eto'o and a reported €46 million, Barca received the equally mercurial Zlatan Ibrahimovic. The Swede is another undisputedly world-class goalscorer who was jettisoned from the Camp Nou after just one year in the famous scarlet and blue shirt.
Recent arrivals in the Barca dressing room who have succeeded include Pique, Cesc Fabregas, David Villa and Jordi Alba. It is not hard to see why.
Pique and Fabregas both rejoined their childhood club after attending finishing school in England with Manchester United and Arsenal respectively, while Villa has played alongside many of the Barca team in Spain's national team and Alba recovered from being released from the youth ranks in 2005 to make his name at Valencia.
Barca's stability is at odds with archrivals Real Madrid, whose policy has been to buy up the world's biggest names and create a stable of "Galacticos" - and their coaches don't have much time to bring success.
Since missing out on the title in 2005, Real have been through seven coaches compared to Barca's three, collecting just four trophies in that time: three league crowns and one Copa del Rey.
Last season Mourinho delivered Real's first La Liga title in four years, but now finds his team eight points behind Barca after only nine matches amid reports of dressing-room discontent.
The prize Real crave above all others is a record-extending 10th European crown, and first since 2002. In Mourinho, they have a coach with proven pedigree - he is seeking to become the first to win the Champions League with three different clubs - but his task has not been helped by constant reports of a split between the Portuguese and Spanish players in his camp.
If Real are to achieve their ultimate goal, they could do worse than than following the Barca blueprint.