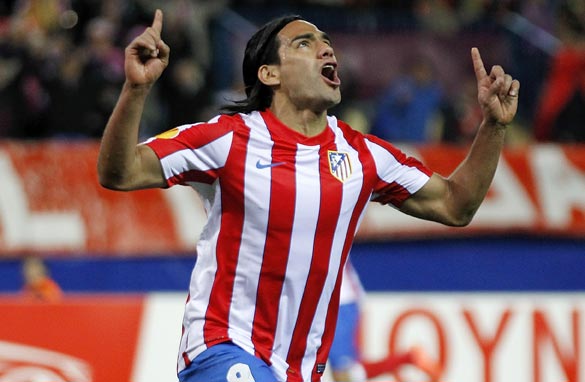 Colombia's Radamel Falcao arrived at Atletico Madrid from Porto in 2011.
If I had told you in August that two months into the Spanish league season, Barcelona would be sharing first place with a club from Madrid, most, if not all football fans would have assumed it would be Real.
So how is it Atletico have managed to rise to the top of La Liga?
There are several reasons for this, but I will start by talking about the most evident one. And it comes down to one man - Radamel Falcao.
The first thing you have to know is that I have watched the Colombian striker for four years. He moved to Portugal (where I am from) in 2009 and immediately showed what he could do.
Right off the bat, Falcao started scoring goals of all shapes and sizes and with all parts of his body.
He was quite simply a goal machine and his final season with the Dragoes was simply spectacular. The striker left Porto with an astounding record of 71 goals in 87 games.
To be honest, I was surprised when he moved to Atletico because he could have signed for a higher profile side.
However, since his agent Jorge Mendes had a good relationship with the board at Los Colchoneros, a deal was made to take Falcao to the Vicente Calderon.
What he has done since is phenomenal. Last season he practically won the Europa League single-handedly, and he has already scored 12 goals in eight games this campaign. This includes a memorable hat-trick against Champions League winners Chelsea in the UEFA Super Cup.
So how good is the 26-year-old right now? I would say he is the best center-forward in the world.
In the past I have described him as a mix between Ivan Zamorano and Hugo Sanchez, and I stand by that. I would even say he is the third best player on the planet after Leo Messi and Cristiano Ronaldo.
With Falcao playing like a man possessed, it has been relatively easy for his Atletico teammates to jump on the bandwagon. But it would be foolish to think he is the only reason for the team's success.
The manager, Diego Simeone, deserves a lot of the credit. Maybe you remember him as a player? The former Argentina international was a brash, bold and belligerent midfielder.
Well, he has exhibited similar qualities as a coach and has passed a never-say-die attitude on to his players.
It has made Atletico extremely hard to beat. For once, they actually have a solid back line.
For years, they boasted some of the most talented attacking players in Europe. They have had the likes of Paulo Futre, Christian Vieiri, Fernando Torres, Diego Forlan and Sergio Aguero among others, but their efforts were constantly undone by Atletico's defensive frailties.
That is not the case this year. Helped by a stable defense, they have won 10 of 11 games in all competitions this season and are showing no signs of slowing down.
How far can they go? Right now it looks like they could finish in the top three for the first time since they won the title all the way back in 1996.
And guess who was a key player for Los Colchoneros back then? That's right, Simeone.