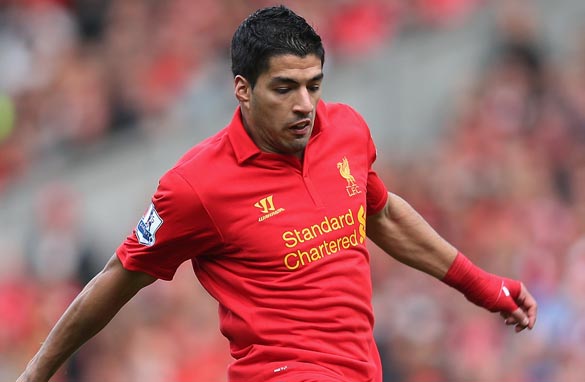 Liverpool's Luis Suarez has been accused of diving by other English Premier League managers.
I thought FIFA vice-president Jim Boyce was out of line when he compared diving in football with cancer. Mostly because I don't think anything in football should be compared with a deadly disease. However, I believe he touched on an important issue because cheating is by far the biggest problem the game needs to fix.
I come from southern Europe and I have been putting up with it for decades. Players diving, rolling around the floor, complaining, time wasting.
The phenomenon has grown and expanded to other leagues around the planet. Nowadays, many if not most players will do anything in order to try to gain an advantage on the field.
With fans becoming increasingly frustrated by what many consider to be cheating, the time has come for football authorities to do something about it. These play-acting antics are hurting the image of the sport around the world.
I would introduce two measures which would go a long way to eradicating this behavior. The first would be to do what the National Basketball Association (NBA) has done in the United States: introduce retroactive penalties for players who dive.
They call it the "no flopping rule". From this season onwards, NBA officials will look at video footage of all games and decide whether anyone "flopped", or fell without direct physical contact.
If they find a particular player is guilty, he will be given a warning. The second time he does it, he gets a $5,000 fine. Then $10,000, $15,000 and so on until a point arrives where he receives a suspension. Simple and effective.
In my mind, FIFA should be talking to NBA officials to examine how they could apply this concept to international football. Furthermore, soccer's governing body should give national associations and their leagues the green light to introduce something similar regionally or locally.
The second measure I would introduce would be the "five-minute penalty". I am sick and tired of watching players pretending they are injured and being stretchered off the field only to recover miraculously and rejoin the action seconds later.
The solution? Make players who come off the field stay on the sidelines for five minutes. Why? Well, if they are seriously injured they would need that amount of time to recover. If they aren't, then they would have to wait on the sidelines knowing that their team are down to 10 men.
The introduction of this rule would surely cut down on time-wasting. Managers would start telling players to stop faking injuries knowing that their team's chances of winning would be hampered by playing a man down for various periods during a game.
In theory, these measures would work. The problem is convincing the decision-makers to change the rules. I've talked to UEFA President Michel Platini about the "five minute penalty" a few times and he actually liked the idea. However, he told me it would be very difficult to put it in effect.
I guess the overall problem is one of mentality. While the commissioners of leagues and competitions in the United States make changes to rules and regulations to make their respective sports more attractive to fans, football bosses make decisions according to the game's doctrine and tradition.
Let's face it, unless that mentality changes, and we have forward-thinking people in decision-making positions, then not that much, if anything, is going to change.
And then one day, the beautiful game, won't be that beautiful any more.