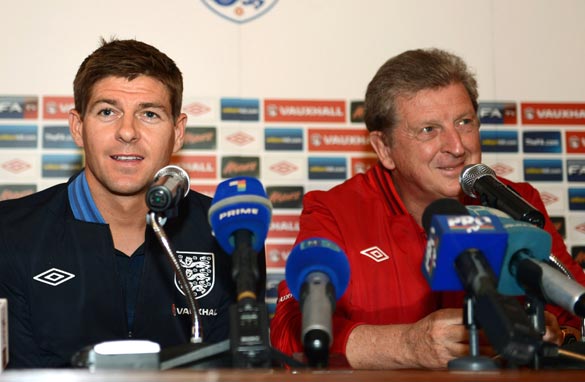 International coaches like England's Roy Hodgson (right) get just a few days with stars like Steven Gerrard (left).
Let's face it. After an exciting weekend of league football around Europe with Clasicos and derbies aplenty, the last thing we wanted was an international break.
It's the second time this season the momentum of some of the world's top club competitions has been snapped by qualifiers for the 2014 FIFA World Cup.
As important as national team football is, and I am a big fan of it, I think the time has come for FIFA to restructure its international calendar to benefit clubs, countries and fans alike.
As far as clubs are concerned, we have all heard their complaints time and again. They lose players for several days, see them travel hundreds or even thousands of miles around the world, and have to worry about whether they will return with serious injuries.
It is a far from ideal situation, especially when you consider it is the clubs who pay the players' salaries.
National associations are also far from happy with the current state of affairs. Having spoken to various national team managers about international breaks, I can tell you they have a big problem with them too.
Coaches only get players two or three days before a game, they have no time to work on tactics or team spirit, and then see them leave without a proper chance for a debrief or to learn from mistakes.
Last but not least, the fans need to be taken into consideration. They are becoming tired of the constant back and forth between club and national team football.
As mentioned earlier, the momentum is broken, so is the excitement and overall interest in club and national team competitions.
So if there is a problem, what can be done to fix it? Well, how about restructuring the international calendar with FIFA creating two windows per year for national teams to play?
My proposal would involve setting aside one month in the winter for teams to play friendly matches, and another month in the summer for qualifiers to be played.
Just imagine this scenario. Most of the world's top leagues normally start their seasons in August. If international breaks are removed, automatically four or five weeks during the regular season are gained, meaning club competitions would finish a lot earlier.
Let's say, for argument's sake, most of them would end in April. At that point in time, the international players would join their national teams and prepare to play four or five qualifying matches over four to six weeks before breaking for the summer.
In a two-year cycle, they would still have time to play the 10 to 12 scheduled qualifying matches.
As far as the winter international break is concerned, it would last about a month and would focus on friendlies.
Considering most leagues take a two-to-three week break in December anyway, why not allow national teams to take over?
National teams would be allowed to play exhibition matches over that period to test tactics and experiment with players.
Everyone would win in this scenario. Clubs wouldn't lose players during the bulk of the domestic season, while national team managers would have more time with their players.
Fans would also benefit from being able to focus on league and international football at different times.
If you are thinking this would be harmful to countries whose leagues run at different times, my argument is that the current schedule is already unfair to them.
Many times clubs in South and North America have to play league and cup games without their international stars.
So that is my idea. Your first reaction may be negative, but look at it with an open mind. The problem with football is that we have too many conservative people with too many traditional ideas calling the shots. Don't think like one of them.