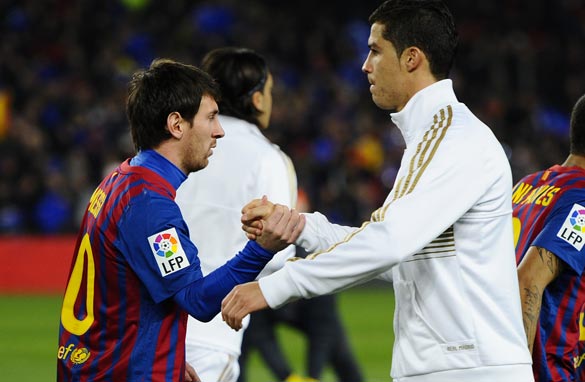 Lionel Messi and Cristiano Ronaldo will take center stage during Sunday's El Clasico.
"No. Not at all". That's what Real Madrid coach Jose Mourinho said when I asked him if Sunday's  El Clasico was a must-win match for the champions. In an exclusive interview with CNN, the Portuguese coach told me he believes it is way too early for the league to be decided, even if Real are currently eight points behind Barcelona.
Do you agree? In my mind, this Clasico will only have a real bearing on the title race if Barcelona win.
If that happens, the gap will increase to 11 points and that is a huge difference, especially if you consider that both Barcelona and Real usually win a large portion of their matches.
As far as making a prediction, I honestly think it is too close to call. Although Barcelona are at the top of the table right now, I would be reluctant to say they are overwhelming favorites for this weekend's clash at the Camp Nou.
Yes, they have won all of their league games, yes they are playing at home, but the Catalans haven't really convinced me so far, and they have serious defensive problems to resolve.
It is a distinct possibility Barca coach Tito Vilanova will have to start Sunday's clash with Javier Mascherano and Alex Song as centre backs. Carles Puyol is out for two months after dislocating his elbow in Tuesday's win over Benfica in the Champions League, Gerard Pique is still struggling with a foot injury, and Vilanova hasn't given any minutes to the kids from the academy.
If Mascherano and Song play, the Catalans will be very vulnerable at the back. As we saw against Sevilla, this is a partnership which lacks expertise and experience, and I can assure you that Real will definitely aim to take advantage of that.
As far as Los Blancos are concerned, a lot has been said about an alleged rift between Mourinho and Sergio Ramos.
After spending a few hours with the "Special One" last week, I can tell you the situation has been exponentially exaggerated by journalists who would like to see the Portuguese manager out of the club.
Is there an issue? Yes. Mourinho and Ramos don't see eye-to-eye when it comes to football philosophy and communication strategy, but how many times have you seen managers and star players disagree?
And how many times has it actually affected the team's performances on the pitch? Not everyone can be best friends and I can assure you Mourinho will not allow this situation to get out of control, even if Real lose Sunday's game.
A final word on the rivalry between Leo Messi and Cristiano Ronaldo. The Argentine phenomenon had started the season on fire but has since been overtaken by his Portuguese counterpart when it comes to goals scored.
Right now Messi has 10 goals in 10 games and Cristiano boasts 12 in 10.
Whatever the outcome of his weekend's Clasico, I can assure you it will be as exciting and intense as ever. For Real it may not be a "must-win" match, but it is also one they can't afford to lose.