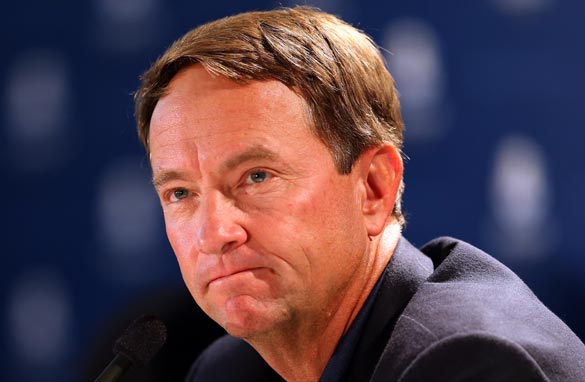 Davis Love watched his team throw away a four-point lead heading into the final day.
As a Brit who followed this year's Ryder Cup every step of the way – I take immense pride in the European team's come-from-behind victory. It was a fantastic achievement, but did Jose Maria's Olazabal's men win it or did the U.S. blow it?
The Americans were without question the better, hungrier team over the first two days and there will be many who will feel Davis Love III's players deserved to win back the prestigious trophy.
Events during Sunday's dramatic final round certainly conspired against them. They simply didn't get the rub of the green when it mattered most.
Europe did what they had to. Luke Donald and Ian Poulter came out all guns blazing and both secured vital points for the holders. Rory McIlroy – despite almost missing his tee-time due to his own tardiness – recorded a crucial victory over Keegan Bradley, who had been one of the USA's stand-out performers, which really set the pace. The momentum was with Europe and they took full advantage.
Inspired by the memory of the late, great Seve Ballesteros, Team Europe played their hearts out. But in the end I feel they were handed victory because their opponents never truly believed they could go on and seal the deal.
By getting so much blue on the scoreboard so early in Sunday's play – the seeds of doubt were sewn in the American team. You could see the tension etched all over Love's face.
I was out on the course in the thick of it during an historic Sunday at Medinah. Europe had its fair share of travelling support, although it didn't compare to the raucous masses cheering on Team USA!
But was their frenetic screaming a help or hindrance? The huge crowds should have been the home team's 13th man just as they had been four years previously in Kentucky.
Something was missing though. The U.S. team wasn't responding in the manner they had during Sunday's play at Valhalla in 2008. The crowds were instrumental in helping their country go on to secure a five-point victory on that occasion. Not this time around.
For me – the turning point was what happened at 17 in the Justin Rose vs. Phil Mickelson match.
Had Mickenson's fantastic chip shot dropped – the Ryder Cup was headed back to the States. No question. It stayed out and Rose's remarkable putt not only kept Europe alive, it spurred him on to victory on the final hole.
I'm sure Rose himself would admit he wouldn't sink another putt like that, with so much riding on it, in a month of Sundays!
The Europeans were galvanized by Justin's win. The Americans were left deflated. I witnessed the mutterings of discontent among the host nation's fans.
They wanted this win badly for their country but I could feel they sensed the inevitable. When Jim Furyk threw away his advantage against Sergio Garcia – who looked as shocked as anyone he'd won – the Americans' fate was effectively sealed.
Sadly for the U.S. team, Tiger Woods endured another miserable Ryder Cup. He cut a forlorn figure as Europe celebrated their victory ahead of him.
He had been given the anchor role for his country, but in the end his efforts against Francesco Molinari were rendered inconsequential by what had gone on before him. This was a tournament to forget for Woods – a player who has only once been on a winning Ryder Cup team.
In conclusion – it was a thrilling contest from start to finish and the Europeans must take huge credit for their comeback, but did the best team win over three days?
Perhaps Europe's victory was written in the stars.
Seve himself would have it no other way!