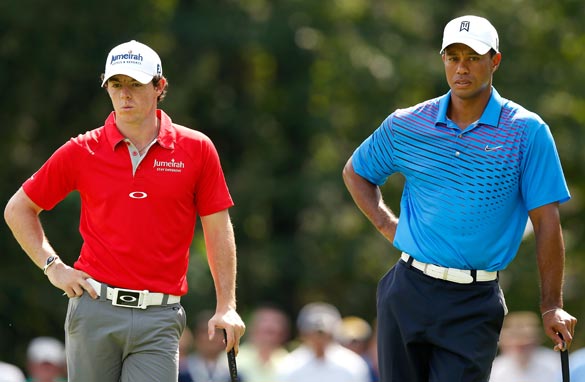 Rory McIlroy (left) and Tiger Woods were paired together at last weekend's Tour Championship.
While both Tiger Woods and Rory McIlroy fell by the wayside during Sunday's final round at the Tour Championship - on current form there's no doubt which player carries more momentum into the Ryder Cup, and Tiger Woods knows it.
Prior to the Tour Championship, former world No. 1 Woods jokingly called current incumbent McIlroy "the great intimidator".
But during that pre-tournament press conference at East Lake, it appeared Woods was simply not comfortable with even talking about the game's top-ranked player.
He avoided getting into a debate triggered by comments from Australian great Greg Norman, who said he believed McIlroy has the capacity to intimidate Woods.
Tiger retorted with a quip about Rory's coiffure. "It must be the hair," he replied, in reference to the Northern Irishman's resplendent locks.
This is a fantastic rivalry for golf - and the game needs it. The young pretender versus the sport's storied 14-time major winner.
The two are reasonably friendly as rivals go and seem to talk during rounds. It is apparent there is a mutual respect and fondness.
In contrast a lot of top professionals barely utter a word to each other during play as they are totally focused on their game.
That is right and proper of course, but a little friendly camaraderie every once in while wouldn't go amiss.
It is highly unlikely Woods is intimidated by McIlroy and the Northern Irishman has confirmed that himself.
But it is worth posing the question whether Woods wishes he was 23 again, with the golfing world at his feet.
The American right-hander will turn 37 later this year and while there is still time for him to surpass Jack Nicklaus' record haul of 18 major wins - has he the consistency?
That elusive quality is something that Rory has mastered - especially in the last few months.
Winning the PGA Championship in South Carolina really kick-started his year; he was going for his third straight win on the PGA Tour at East Lake.
Not that Woods hasn't been in good form. If McIlroy hadn't been around in recent weeks, Tiger could well have scooped up more silverware.
But as the focus shifts to the Ryder Cup in Illinois, what a fascinating scenario it would be if it all came down to Tiger versus Rory in Sunday's final singles pairing.
Woods' Ryder Cup record is not the best - he's only played in one winning U.S. team - and it is clear that's something he wants to change.
The good news for Europe is they have the hottest player in golf amid their ranks - a player universally liked, feared, respected and admired.
Woods referred to him as a "kid" at East Lake. The problem Woods and team USA have right now is this "kid" seems to be a fast learner who is only going to get better and better and he is playing a type of golf way beyond his tender years.