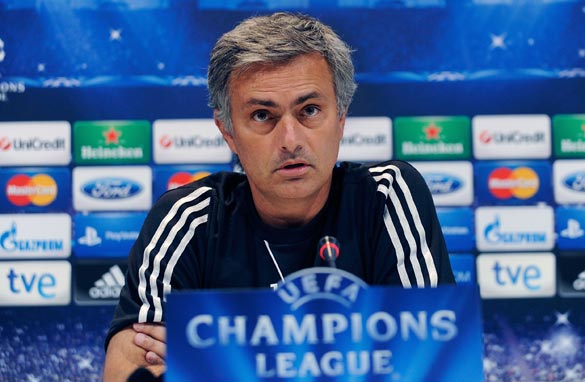 Jose Mourinho took over from Manuel Pellegrini as Real Madrid coach in 2010.
If there is one man in the world of football who polarizes opinions, then that man is Jose Mourinho.
Ever since running down the touchline at Old Trafford during a memorable UEFA Champions League game for FC Porto, the Portuguese coach has reveled in being in the public eye.
Over the years, his brash and bold style on and off the pitch has made him many friends and quite a few enemies as well.
Love him or hate him, one thing is clear; you cannot ignore him. And you cannot ignore the fact he is a winner.
The 49 year-old has picked up a grand total of 20 trophies with Porto, Chelsea, Internazionale and Real Madrid and he has done it in style.
On the way, he shattered records for victories, goals, and press conference attendances. And you can be sure that Mourinho is a gift that will keep on giving.
As I prepared to interview "The Special One" or "The Unique One" or whatever you want to call him, it became apparent to me this may be the season he will have to be at his best in order to live up to expectations at Real Madrid.
Let's face it, the campaign at the Bernabeu started poorly which means there is margin for error. Eight points behind Barcelona in the league and competing with three other European heavyweights in the Champions League's "Group of Death", every game is a must-win for Jose and Los Blancos.
As if there wasn't enough pressure on the coach's shoulders, he has also had to deal with a personal crisis affecting his best player.
Cristiano Ronaldo sent shockwaves through the world of football when he revealed he was unhappy at Real Madrid.
Furthermore, it seems he has a little bit of a dressing room rift to deal with. It is becoming clearer and clearer there is a certain amount of friction in the side between the Spanish players and the foreigners.
Why? There are a variety of reasons. According to what I have heard, it seems the Portuguese and South American contingent feel Ronaldo should be more influential in the team and become one of the captains, while the Spanish players think the likes of Alvaro Arbeloa, Raul Albiol and even Sergio Ramos should get more respect.
What does this all mean? Well, right now, Mourinho is dealing with quite an explosive situation. The victory over Manchester City diffused some of the tension, but if Real lose to Barcelona in 10 days time; all of the problems will bubble to the surface once again.
What you need to realize is that Real Madrid, politically, is one of the toughest teams to manage, especially if you are not Spanish.
There are many people in Spain who want to see Mourinho fail and that means every time the team fails to deliver the goods, he is blamed.
So can he deliver an elusive 10th European Cup to the Bernabeu? Is Ronaldo going to be happy? How long will he want to stay in Madrid? All questions I will be asking him this week. Send along yours as well if you like.
After the interview is done, and it airs on CNN, I am sure people will judge him once more. But hey, he doesn't seem to mind the attention, does he?