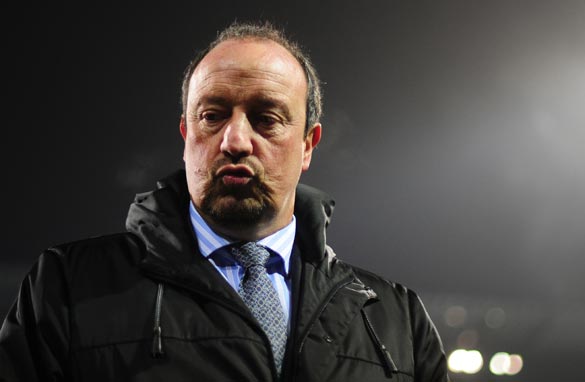 Rafael Benitez has been out of work since being sacked by Inter Milan in December 2010.
This December Spanish coach Rafael Benitez will have been out of work for two years. He has his website, plus plenty of media commitments to keep him busy, but for a coach that has been working as a manager since 1986 that must be like a living purgatory.
Like the majority of managers, Benitez gives the impression that he thinks and breathes football every minute, every hour, every day of his life.
In his new book "Champions League Dreams "  with Times journalist Rory Smith, the Spaniard, who was Liverpool's manager for six years between 2004 and 2010, provides a glimpse into the quest for perfection by describing the layout of his Melwood office at the club's training ground.
It was here he would plot his team's tactics and how best to overcome the opposition – with a little help from a resource of DVDs so comprehensive it sounds like a sub-section of the British Library.
"Stretching several metres across the wall on the right-hand side of my Melwood office stood shelves and shelves of DVDs," says Benitez.
"Hundreds upon hundreds of hours of footage, all neatly categorized, organized and numbered so that, after consulting a database on my computer, I could find any film I needed quickly and easily.
"Aside from my coaching staff, this was my most valuable resource as I attempted to prepare Liverpool's players during the season: not just a record of all the games I had managed and training sessions I had overseen in my career, but an extensive library of football around the world."
Benitez's attention to detail was not just based on an extensive back catalogue of DVDs – it stretched to gastronomy as well. Before joining Liverpool he guided Valencia to two La Liga titles and the UEFA Cup and his attention to detail ran to Benitez taking ice-cream off the players' menu.
Benitez is very much a "love him or loathe him" coach – you either love him or hate him. And that is no better demonstrated than during his time at Liverpool.
Compared to where Liverpool find themselves now – fourth from bottom of the English Premier League with two points from four games with a squad chronically depleted in the striking department – Benitez's time at Anfield is rapidly starting to acquire a golden age feel. The club won the Champions League in 2005, reached another final in 2007, as well as securing the FA Cup and the UEFA Super Cup under his stewardship.
Perhaps the 2005 Champions League triumph is the most remarkable given it was heavily reliant on players like Antonio Nunez, Djimi Traore and Igor Biscan during the campaign, with Xabi Alonso and Djibril Cisse missing key matches due to injury.
A lover of chess, Benitez's strategy for the quarterfinal second-leg tie against Juventus, when Liverpool secured a 0-0 draw to reach the semifinals 2-1 on aggregate, shows the Madrid native's tactical cunning at its very best.
"Instead of instructing the team to line up in our specially-designed formation, I told them to play for the first two minutes in the 4-2-3-1 that Fabio Capello and the rest of Juventus's coaching staff would probably have been expecting," writes Benitez.
"Only after the game was underway would we move, organically, into the 3-5-1-1. It is a little trick that, sometimes, managers use. If you change after a few minutes, it can look more natural. Sometimes, your rivals will not alter a thing."
But the Premier League title remained tantalisingly out of grasp, with Liverpool coming close during the 2008/2009 season when Benitez's team finished second.
Benitez's transfer record at Liverpool is the stick which is most commonly used to beat the Spaniard. Some argue too many poor players were bought at inflated prices, though the counter-argument to that is his rrecruitment of the likes of Xabi Alonso, Pepe Reina, Fernando Torres and Lucas Leiva.
Huge profits were made after Alonso and Torres were sold, while Reina and Lucas are seen as integral to new manager Brendan Rodgers's plans to revive the club.
Soon after Benitez joined Liverpool, I interviewed Spanish television producer Paco Lloret, who had written a biography about Benitez. Lloret told me: "Perhaps Rafa is not so good at buying players.
"I was speaking with Rafa's agent before a Liverpool game and he told me that Rafa is the best coach, but sometimes he is so intent on watching the game, that he doesn't watch the players."
"The agent said that his eyes were better at spotting players than Rafa's eyes."
Benitez also has a track record of falling out with people. Is it coincidence that Liverpool reached two Champions League finals when he was working with assistant coach Pako Ayesteran, who left Anfield at the start of the 2007/2008 season?
Ayesteran was also at Benitez's side when Valencia did so well before the two coaches came to Liverpool.
However, whatever you think of Benitez – warts and all – surely it is a terrible waste that a man of his talents is effectively twiddling his thumbs, waiting for the phone to ring?