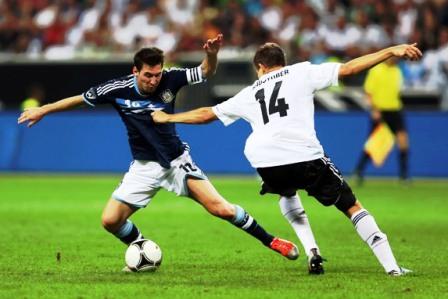 Messi (left) has scored 10 goals in six games for Argentina.
At a time when Cristiano Ronaldo is making the headlines for his unhappiness at Real Madrid, I would like to talk about the man who has a lot to do with CR7's state of mind - Lionel Messi.
On comments posted on my blog I am often accused of being pro Ronaldo.
However, I just give my opinion and recently it has been that the Portuguese winger deserved to win the last UEFA Best Player in Europe award. Not necessarily because he is better than Messi, but because he had won more titles last season and was more decisive than the Argentine for club and country.
I think it is pretty tough to compare the two anyway. As Ronaldo told me a few months ago in an interview, you can't compare a Ferrari with a Porsche.
But I wanted to write about Messi because I think he is reaching a level where we must start considering him to be the best player of all time. That's because he has started scoring consistently for Argentina, and not only that, he has started to score spectacular and decisive goals for his country as well.
Leading up to Tuesday's World Cup qualifier against Peru, the 25-year-old had scored 10 goals in six games for La Albiceleste. It is a run that has included hat-tricks against Switzerland and Brazil and featured Messi playing as well if not better than he does at Barcelona.
And this for me is the key development in Messi's career.
For the first time he is delivering the goods for his country, and this means all the criticism he has had in the past that he could only play in Barca's system, is disappearing.
He is becoming more mature, on and off the pitch, and I would even say that he is slowly becoming a leader on the pitch as well.
He may not be the most vocal of players, but Messi is showing his teammates the way in the national team. He is literally saying, "give me the ball and I will do something with it."
This, for me, is what is making Messi a new and improved superstar.
So what does the Argentine phenomenon need to do in order to be truly considered one of the best players of all time? I think you know the answer to that question. He must do what Pele, Diego Maradona and Zinedine Zidane did - lead his country to a World Cup title.
Over the weekend I was watching some highlights from Argentina's 1986 World Cup campaign and saw so many similarities between Maradona and Messi.
The first thing we can compare is the goals they scored against England and Getafe respectively, but even as far as style of play is concerned, I believe Messi is becoming more and more like Maradona. The Barca star  is coming deeper and deeper to get the ball, and he is becoming a better passer every season.
When Maradona  won the World Cup with Argentina in Mexico he was 25.  The 25-year-old Messi will be 27 at the World Cup in Brazil in 2014, when he is likely to be at the peak of his powers - or so Argentina hopes.
(Editor's note: Messi's age corrected to make clear he will 26 when the 2014 World Cup starts and 27 when the tournament finishes. This was an error in the subbing process for which I apologise - John Sinnott, digital sport producer.)